Tribune, With New White Knight, Rejects Gannett's Latest Bid
by
Nant becomes No. 2 shareholder with $70.5 million investment

Board rebuffs Gannett again, though offers to engage in talks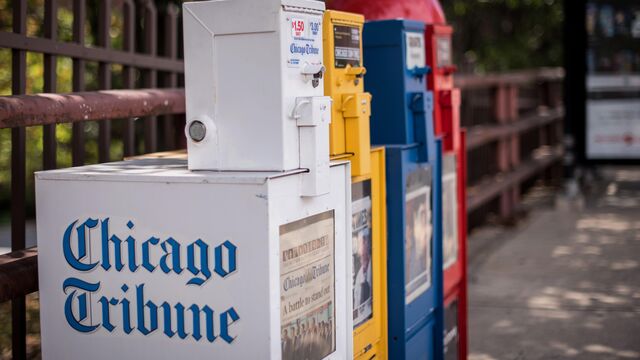 Tribune Publishing Co., infused with a $70.5 million investment from billionaire Patrick Soon-Shiong, rejected Gannett Co.'s latest takeover offer, escalating the battle between the newspaper publishers.
Gannett's revised proposal is "clearly inadequate" to control the owner of the Los Angeles Times and the Chicago Tribune, Chief Executive Officer Justin Dearborn said in a statement Monday. The $15-a-share proposal from the publisher of USA Today was 22 percent more than its original bid of $12.25 offered publicly on April 25. Tribune sank in New York trading.
In rebuffing Gannett a second time, Tribune is issuing 4.7 million common shares to Soon-Shiong's Nant Capital at $15 apiece, according to a separate statement Monday. Following the deal, Soon-Shiong will become vice chairman on the board and Nant Capital will have a 12.9 percent stake, making it Tribune's second-largest shareholder. That would put it ahead of Oaktree Capital Management, which called last week for a board committee free of top shareholder Michael Ferro's influence to consider Gannett's offer. The moves are the most aggressive yet by Ferro to fend off Gannett.
Gannett said Monday that Tribune was maneuvering behind the backs of shareholders to gain disproportionate control of the company, according to a statement.
Board Shift
"Tribune again changed the composition of its board without stockholder participation; the newest appointee will not be subject to a stockholder vote for another year," Gannett said.
Shares of Tribune fell 15 percent to $12.09 at the close in New York, their biggest drop since September, erasing some gains since Gannett made its first public offer four weeks ago. Through Monday's close, the stock has climbed 31 percent this year. Gannett slipped 2.4 percent to $15.74.
Soon-Shiong, 63, is CEO of NantKwest Inc., a cancer-research firm that went public last year. A medical doctor and entrepreneur, Soon-Shiong became a billionaire after selling drug companies APP Pharmaceuticals Inc. in 2008 and Abraxis BioScience Inc. in 2010.
His experience in the health-care industry aligns with Tribune's new leaders. Ferro and Dearborn led Merge Healthcare Inc., whose software helps doctors manage medical images, as chairman and CEO, respectively. IBM acquired the company last year for $1 billion.
Lakers Co-Owner
Soon-Shiong is also a co-owner of the Los Angeles Lakers basketball team, a marquee professional sports team in Tribune's biggest media market. The newspaper publisher is in the early stages of a strategic plan that includes creating digital subscription services and expanding the LA Times brand globally, which will include opening seven international bureaus this year.
Tribune's moves put pressure on Gannett to raise its bid again as Ferro and the publisher's management get more emboldened to go it alone. Tribune is in the early stages of a turnaround plan, with new executives only on the job for a few months, and it's just starting to roll out new strategies like an artificial intelligence-based platform meant to help it make more money from its content.
Tribune, in its statement Monday, invited Gannett to agree to a non-disclosure agreement for negotiations toward a deal.
"We stand ready to work with Gannett to assess whether there is a path forward that will create more value for both sets of shareholders," Dearborn said in the statement.
Gannett said it sent Tribune a non-disclosure agreement more than a month ago, and the company hasn't responded. The version Tribune proposed would require Gannett to effectively cease any public proxy solicitation or other public pursuit of a transaction, according to Gannett's statement.
The publisher said it will review whether to proceed with its bid after Tribune's annual meeting June 2, at which Gannett is urging Tribune shareholders to withhold votes on the that company's slate of board candidates.
Before it's here, it's on the Bloomberg Terminal.
LEARN MORE