U.S. Stocks Decline Amid Focus on Interest Rates, Looming Data
by
Raw-materials rise amid Bayer's Monsanto bid; Apple gains

Investors await reports on housing, economic growth this week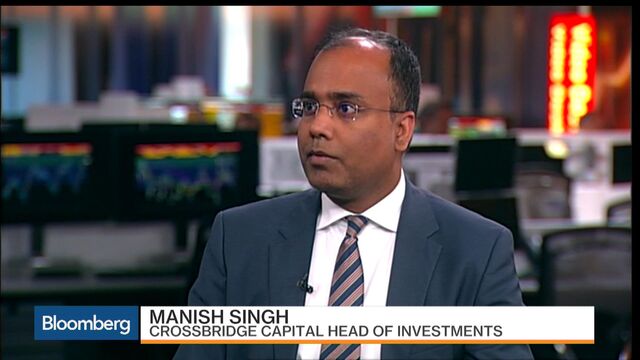 U.S. stocks slipped amid a late-day pullback, with the S&P 500 holding in the narrowest range in five weeks as investors awaited further direction on the health of the economy and prospects for higher interest rates.
The benchmark index wavered in light volume, alternating between daily gains and losses for a sixth session. Despite Apple Inc.'s third rally in four days, technology shares wiped out an advance as Microsoft Corp. and Facebook Inc. fell more than 1.1 percent. Monsanto Co. rose to a 10-month high after Bayer AG offered to buy it for $62 billion, with the seed maker's climb boosting raw-material producers.
The S&P 500 fell 0.2 percent to 2,048.04 at 4 p.m. in New York, trimming its gain this year by half. The Dow Jones Industrial Average lost 8.01 points, or less than 0.1 percent, to 17,492.93. The Nasdaq Composite Index decreased 0.1 percent. About 5.9 billion shares traded hands on U.S. exchanges, 20 percent below the three-month average.
"I think the market is just trying to digest what the Fed mentioned in the minutes last week," said Mark Kepner, managing director and equity trader at Themis Trading LLC in New York. "Everyone is going to be looking at what's coming out this week with housing, PMI and wages especially. In the short-term we're holding above those April lows, that 2,040 level. Friday was a big day where we were able to hold that level and it's going to be important for the market to stay above those lows."

Investors showed a reluctance Monday to place any big bets before parsing data this week on manufacturing, housing, consumer sentiment and growth for clues on whether the U.S. economy has strengthened enough to handle higher borrowing costs. Comments by an array of Fed officials also have an opportunity to further steer sentiment.
Fed Bank of St. Louis President James Bullard said today he doesn't see the U.K.'s vote on European Union membership influencing the U.S. central bank's meeting that will be held the week before the referendum. San Francisco's John Williams said Monday that two to three rate increases this year are still "about right," and he views inflation as moving closer "over the next year or two" to 2 percent. Chair Janet Yellen is due to deliver remarks on Friday.
Policy makers must appreciate the danger that higher rates could hurt the U.S. economy by strengthening the dollar and pressuring global growth, said Krishna Memani, chief investment officer of OppenheimerFunds Inc. "That reaction is going to be negative," he said Monday in a Bloomberg Television interview. "The Fed can't kid itself on that."
Rate Bets
Traders are pricing in a 30 percent chance of higher interest rates in June, compared with 4 percent last Monday, after Fed minutes last week signaled officials are ready to raise rates in June if there's sustained economic improvement. July is now the first month with at least even odds of a boost to borrowing costs.
"Everyone is very, very uncertain at the moment," said Nick Ford, who helps oversee the equivalent of about $4 billion at Miton Group in London. "People are looking at the reasonably strong economic data, and looking forward to new-home sales data coming out tomorrow, have their fingers crossed that everything is going to be OK."
The S&P 500 on Friday halted its longest stretch of weekly losses since January and erased a 2016 decline. The gauge has churned in a roughly 40-point range in May, after rebounding as much as 15 percent from a 22-month low in February and coming within 1.4 percent of a record set just over a year ago. The rally ran out of steam in late April, hampered by disappointing financial results from technology giants including Apple Inc. and Microsoft Corp., and signs of lackluster economic growth.
Uneven Data
Data continued to be uneven, with a May manufacturing reading today coming in below the forecasts of economists surveyed by Bloomberg, slipping to the lowest since September 2009 with factory orders at the weakest level this year.
As the earnings season draws to a close, Best Buy Co., Hewlett Packard Enterprise Co. and Tiffany & Co. are among S&P 500 companies reporting results this week. Analysts have moderated their predictions for a decline in first-quarter profits to 7.2 percent, from 10 percent as recently as April.
In Monday's trading, phone companies and utilities were the worst performers among the S&P 500's 10 main industries, while raw-material shares rose 1.2 percent to a three-week high. The CBOE Volatility Index climbed 4.1 percent to 15.82, after rising for two consecutive weeks for the first time since February. A Goldman Sachs Group Inc. basket of the most shorted stocks posted its best two-day gain in five weeks.
Apple capped its fourth daily advance of at least 1 percent in the past six trading sessions. The shares gained amid speculation the company is taking meaningful steps to resuscitate iPhone sales, helping to boost shares of its suppliers.
Apple Impact
Applied Materials Inc. added 1.1 percent to a 14 percent surge on Friday as the company reported an almost fourfold leap in orders for equipment to make displays. Samsung Electronics Co., LG Display Co. and Foxconn Technology Group-owned Sharp Corp., all of whom are Apple suppliers, have announced increased spending on new display technology in the past two months. Qorvo Inc. and Skyworks Solutions Inc. increased at least 1.9 percent.
Technology stocks fell 0.1 percent in the session's final minutes, losing their grip on the first back-to-back gains in nearly two weeks. Raw-material producers rose amid Monsanto's rally and as CF Industries Holdings Inc. added 4.4 percent after the company abandoned its $5.4 billion acquisition of OCI NV of the Netherlands.
Energy companies in the benchmark index retreated 0.3 percent, paring a 0.9 percent slide, while crude declined as producers in Canada worked to resume operations after wildfires and Iran continued to raise exports. Transocean Ltd. and Marathon Petroleum Corp. sank at least 2.8 percent.
Tribune, Fiat
Among other shares moving on corporate news, Tribune Publishing Co. plunged 15 percent after rejecting Gannett Co.'s latest takeover offer. Tribune had surged more than 89 percent after Gannett first proposed the deal a month ago.
Fiat Chrysler Automobiles NV fell 5.1 percent to a three-month low as its fight with Germany over vehicle emissions escalated after the country's most-read newspaper reported that authorities found the company cheated.
Cigna Corp. lost 3.9 percent, the most in six weeks, after the Wall Street Journal reported top officials at Anthem Inc. and Cigna accuse each other of violating a July merger agreement and fumbling submissions to regulators. Anthem declined 1.9 percent.
Before it's here, it's on the Bloomberg Terminal.
LEARN MORE