Ryanair Profit Growth to Slow as Terror 'Drip' Crimps Fares
by
Discount airline sees ticket prices falling 7% in fiscal 2017

Profit growth forecast to tumble to 13% this year from 43%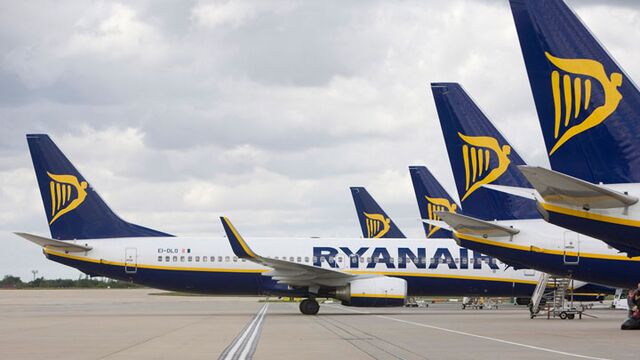 Ryanair Holdings Plc forecast that earnings growth will slow this year as a spate of terror attacks combines with lower fuel prices to prompt European airlines to cut fares.
Net income will increase by about 13 percent in the 12 months through March 2017 following a 43 percent surge in the previous fiscal year, Europe's biggest discount carrier said Monday. Ticket prices are set to fall 7 percent.

Fares are on the slide as "an incessant drip of terrorist activity" weighs on demand just as the global decline in fuel costs encourages network carriers to add more seats in an effort to defend market share, Ryanair Chief Executive Officer Michael O'Leary said in an interview on Bloomberg Television.
Deutsche Lufthansa AG and British Airways parent IAG SA have already warned of excess capacity following shootings in Paris in November and March's bombings in Brussels. O'Leary said the pace of fare declines will accelerate next winter, while suggesting Ryanair may benefit thanks to a lower cost-base and a makeover designed to appeal to families and business customers.
Shares Positive
Ryanair shares rose as much as 2.3 percent and were trading 23 cents, or 1.7 percent higher, at 13.44 euros as of 8:28 a.m. in Dublin, where the company is based. The stock has declined 10 percent this year, valuing the company at 17 billion euros ($19 billion).
Profit after tax surged to 1.24 billion euros in fiscal 2016 from 867 million euros a year earlier, excluding the sale of a stake in fellow Irish carrier Aer Lingus. Earnings this year are projected to range from 1.375 billion euros to 1.425 billion euros, O'Leary said.
Amid "very limited visibility," Ryanair said fares will fall between 5 and 7 percent in the period through September, and by 10 to 12 percent in the second half of its fiscal year. Prices fell 7 percent in the fourth quarter, steeper than a forecast 6 percent drop.
Ryanair will add about 50 aircraft this winter and aims to lift its full-year passenger count by 10 million to 116 million. "So we're putting downward pressure on pricing ourselves," O'Leary said. The company has accelerated an eastward push, competing with Budapest-based rival Wizz Air Holdings Plc.
EgyptAir
Fares could fall further following the loss of an EgyptAir flight on May 19, depending on whether terrorism is found to have caused the deaths, O'Leary said. A series of air traffic control strikes across France, Germany and Italy have already impacted operations this year, with 200 flights scrapped.
O'Leary said in April that the terror attacks in Europe, combined with a run of air-traffic strikes in France, probably reduced full-year earnings by 30 million euros to 40 million euros. The downing of a Russian airliner in Egypt and deaths in Turkey and Tunisia over the past year have prompted airlines to shift capacity away from those destinations, contributing to depressed fares on more popular routes.
Ryanair expects its planes to fly at 93 percent capacity, the same rate as the previous year. Fuel savings will contribute about 200 million euros in reduced costs as the airline's fuel hedging falls to $62 a barrel from last year's $90. The carrier is 95 percent hedged in 2017 and 44 percent hedged for fiscal 2018 at $50 a barrel.
The company also started its fourth share buyback program in February to return 800 million euros to investors after earnings in its third quarter missed analyst estimates. The company said it has bought back 80 percent of the planned stock.
Before it's here, it's on the Bloomberg Terminal.
LEARN MORE