North Korean Official Who Survived Purge Now Leads Kim's Economic Plan
by
North Korea names seasoned technocrat to prestigious committee

Economy expands marginally under Kim despite growing sanctions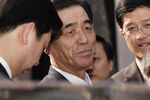 Kim Jong Un is looking to one of North Korea's more experienced technocrats -- who once narrowly escaped being purged -- to revive the economy in the face of punishing international sanctions.
Kim this month named prime minister Pak Pong Ju, 77, to the five-man standing committee of the ruling Workers' Party, making him the highest-ranking official to lead a new five-year economic plan. The regime's leader announced the blueprint at the first full party congress in 36 years, held as he seeks to tighten his grip on power.
Pak has had a rocky past, sacked as premier by Kim's father, Kim Jong Il, about a decade ago and demoted to supervisor of a chemical factory. His policy of encouraging free enterprise while increasing wages and consumer prices to help the country cope with the rise of unofficial markets had unnerved die-hard socialists.
Pak returned three years later as a party official handling light industries, but it was not until Kim Jong Un took over after his father's death in late 2011 that he became premier again. He has since kept North Korea's economy growing -- if marginally. South Korea's central bank estimates North Korea's growth ranged from 0.8 percent to 1.3 percent in recent years, and Pyongyang doesn't release its own data.
"No one in North Korea understands the economy better than Pak," said Kim Young Hui, a North Korean defector who researches the country's economy for Seoul's Korea Development Bank. "Feeding the people has paramount importance in Kim's campaign to legitimatize his power and he is relying on Pak to do that."

Pak is by no means a capitalist. But he understands how a dose of capitalism can underpin an otherwise isolated socialist economy, and advises Kim on how to meet his 2012 promise never to let his people again "tighten the belts."
Keeping that pledge will be difficult. North Korea's food production probably fell last year for the first time since 2010 and food security is expected to worsen, the United Nations' Food and Agriculture Organization said in a report last month. Most households were already estimated to have poor or borderline food consumption, it said.
Kim has allowed greater private enterprise since taking power and faced the question of how to deal with markets that have grown more influential. But details of his new five-year plan have been scant.
China Ally
Pak's role in the plan could please China, an ally that hopes to see North Korea reform and open, as it did itself under Deng Xiaoping. China accounts for most of North Korea's trade, but President Xi Jinping has not met Kim and the regime's nuclear tests have created friction. China supported UN Security Council sanctions to punish Kim for his nuclear tests, including one in January.
Pak visited China in 2005, meeting then-leaders Wen Jiabao and Hu Jintao and visiting industrial sites in Beijing and Shanghai, including a Nokia factory.
His elevation contrasts with the fall of Jang Song Thaek, Kim's uncle and one-time deputy, whose boldness in opening North Korea's economy to China created tension within the regime and saw him executed in late 2013 on charges of graft and factionalism.
Pak and Jang led an economic delegation to South Korea in 2002, backing speculation that they were close. Both came from humble backgrounds, with Pak starting out managing a food factory near the border with China.
Denouncing Jang
Pak denounced Jang publicly when the leader's uncle was dragged away for trial and then executed. At the congress this month, Pak replaced Jang as a member of the party's Central Military Commission overseeing the 1.2-million-strong Korean People's Army.
"With sanctions affecting what the D.P.R.K can and cannot export, Pak Pong Ju's presence on the CMC creates a chance that some natural resources normally sold abroad by KPA elements will be redirected and used in domestic economic development," Michael Madden, editor of the North Korea Leadership Watch blog, said on 38 North, a website that analyzes the country.
Having influence over the military is important as the army has increased its stake in the economy to earn hard currency by trading in narcotics, arms and other items. Since Kim took power he has tightened his control over the army through shake-ups.
Should Pak fail to keep the economy growing or, worse yet, succeed so well the markets threaten the regime's grip on power, he may risk the fate of other senior officials. 
In 2010, South Korean media reported North Korea's finance architect was executed by a firing squad after he botched a currency reform and sparked public unrest. He hasn't been seen in public since.
"The fates of these top bureaucrats revealed how dangerous it is to be in charge of economic reforms in North Korea," Lee Su Seok, a senior research fellow at South Korea's government-affiliated Institute for National Security Strategy, said in a 2013 paper. "Kim Jong Il must have wanted to use Pak again and spared him from political purge. With his economic expertise uncontestable in the North, Pak was a valuable asset for future economic reform."
Before it's here, it's on the Bloomberg Terminal.
LEARN MORE