Oil Falls a Fourth Day as Canada to Resume Output After Fires
by
Cooler weather helping to contain blaze in oil-sands region

Iran may increase exports to 2.2 million barrels a day: Mehr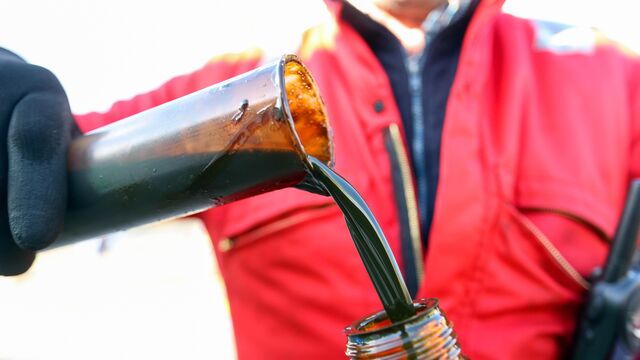 Oil dropped for a fourth day, the longest stretch of declines in more than a month, as producers in Canada worked to resume operations after wildfires and Iran continued to increase exports.
July crude fell 0.7 percent in New York. Cooler weather is helping to control a blaze in Canada's oil-sands region and allowing Suncor Energy Inc. and Syncrude Canada Ltd. to start getting back to work. Iranian exports could surpass 2.2 million barrels a day by midsummer, the state oil company told the Mehr news agency.

"The news that the Canadians are trying to resume production in Alberta and that Iran is planning to export 2.2 million barrels of oil a day this summer is putting a damper on the market," said Gene McGillian, a senior analyst and broker at Tradition Energy in Stamford, Connecticut. "We've been seesawing after rising to a seven-month high last week."
Oil has surged more than 80 percent from a 12-year low in February on signs the global surplus will ease as non-OPEC output declines. The Organization of Petroleum Exporting Countries is unlikely to set a production target when it meets June 2 as it sticks with Saudi Arabia's strategy to squeeze out rivals, according to all but one of 27 analysts surveyed by Bloomberg.
West Texas Intermediate oil for July delivery fell 33 cents to settle at $48.08 a barrel on the New York Mercantile Exchange. Total volume traded was 35 percent below the 100-day average at 2:45 p.m.
Improving Conditions
Brent for July settlement slipped 37 cents, or 0.8 percent, to $48.35 a barrel on the London-based ICE Futures Europe exchange. The global benchmark closed at a 27-cent premium to WTI.
Declines briefly eased on speculation that crude supplies slipped last week at Cushing, Oklahoma, the delivery point for WTI and the nation's biggest oil-storage hub. Inventories increased by 400,000 barrels in the week ended May 20, according to a Bloomberg proprietary model.
Municipal authorities in Alberta, citing improved conditions late on Friday, lifted mandatory evacuation orders for seven oil-sands worker camps and production facilities, including Suncor's base plant mine and Syncrude's Mildred Lake operation. The phased re-entry of all oil-sands camps is now underway, according to statement from an Alberta agency. More than 1 million barrels a day were halted by wildfires that ravaged the region since the start of May.
In Iran, National Iranian Oil Co. Managing Director Rokneddin Javadi told Mehr that the country has no plans to join any attempt by global oil producers to freeze output because it's still ramping up exports to pre-sanctions levels. Iran is due to meet with other OPEC members at the June 2 summit.
Libyan Shipment
Crude exports resumed from the Libyan port of Hariga after the National Oil Corp. and officials based in the east reached an agreement last week. Since the deal was announced, the tanker Seachance loaded 660,000 barrels of crude and sailed from Hariga on Friday, Tripoli-based National Oil Corp. said in a statement. The cargo was the first international shipment from the port since the regime in the east refused to let the tanker leave port in early May.
"Iranian comments about their plans to increase exports, the resumption of Libyan exports and the fact that Canadians are getting back out to oil facilities give us three big reasons to be lower," said Phil Flynn, senior market analyst at Price Futures Group in Chicago.
U.S. crude inventories probably declined by 2 million barrels last week, according to the median of analyst responses in a Bloomberg survey conducted ahead of an Energy Information Administration report on Wednesday. The EIA is projected to report that supplies of gasoline and distillate fuel also declined, the survey showed.
June gasoline futures climbed 0.6 percent to close at $1.6456 a gallon. Diesel for June delivery slipped 0.8 percent to $1.4775.
Oil-market news:
Total SA has halted units at some of its French refineries. Feyzin refinery is completely shut while strike action will cause Grandpuits to close, the company said.
Some 678 of the company's French gas stations are either entirely or partially out of supplies, Total said in a statement.
Nigerian militants called the "Movement for the Emancipation of the Niger Delta" continued to observe a cease-fire and condemned the activities of a group known as the Niger Delta Avengers, which has led a campaign cutting the nation's output to the lowest since 1994.
Shipments of Nigeria's Qua Iboe grade will be about normal in July even after Exxon declared force majeure and gunmen were said to have blocked access to the Qua Iboe terminal, according to a loading program obtained by Bloomberg.
Speculators' net-long position in WTI has climbed by the most contracts since March, according to data from the Commodity Futures Trading Commission. In the Brent market, money managers raised bullish bets by 39,202 contracts in the same period, ICE Futures Europe data show.
Before it's here, it's on the Bloomberg Terminal.
LEARN MORE