Monsanto Trading Below Bayer Offer Shows Regulatory Anxiety
by and
Shares closed 13% below offer amid uncertainty about approvals

Monsanto CEO says Bayer going public with bid is 'surprising'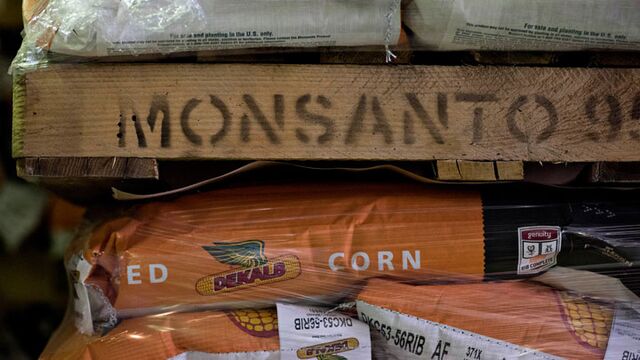 Monsanto Co. shares closed 13 percent below Bayer AG's all-cash offer on Monday amid concern that regulators may complicate the proposed $62 billion takeover that would create the world's largest seed and crop-chemicals company.
The deal also drew a pledge from U.S. senators to pay it close scrutiny amid accelerating consolidation in the industry. Monsanto closed at $106 in New York trading on Monday, up 4.4 percent for the day but lower than Bayer's $122 bid. That's partly because of an assumption that there could be "regulatory hiccups," Chris Shaw, an analyst at Monness Crespi Hardt & Co., said in a note.
"There seems to be some real skepticism over the deal, likely due to the increased scrutiny recent mergers have received," Shaw said by phone.
A combination of Bayer and Monsanto is the third megadeal that promises to reshape the industry that supplies the world's farmers with pesticides and genetically modified seeds. Regulators are already examining the proposed $130 billion merger between Dow Chemical Co. and DuPont Co., while national security officials in the U.S. are weighing China National Chemical Corp.'s bid to acquire Syngenta AG of Switzerland.
"The accelerating trend of consolidation in the agricultural space should be of deep concern to American consumers, touching as it does on the competitiveness of the industry that provides most of our nation's food," Mike Lee, a Republican senator and chairman of the Senate's sub-committee on antitrust, said Monday in a joint statement with other senators.
Operational Sense
While the combination of Bayer and Monsanto makes sense operationally, regulators could focus on the size of overall market share, as opposed to individual product categories, making it harder for the deal to go through, according to James Govan, a fund manager at Baring Investment Services Ltd. in London, who manages about 60 million pounds ($87 million) of agricultural and food-related stocks, including Monsanto shares.
It's not unknown for a target company to trade below an offer before a takeover is later completed successfully. Bayer said it doesn't see major regulatory risks. Jennifer Rie, a Bloomberg Intelligence senior analyst, said the Department of Justice has defined areas of competition narrowly in the past, and more likely than not it will do so in this case.
'Surprising ' Openness
Monsanto declined to comment about Bayer's offer. But according to U.S. Secretary of Agriculture Tom Vilsack, Monsanto Chief Executive Officer Hugh Grant told him Monday in a conversation that it was "surprising for a German company to be as open" about a proposed bid as Bayer has been with its own offer.
To be sure, it was Monsanto that initially confirmed last week Bayer had made a proposal, after Bloomberg News first reported that the German company was weighing an offer.
Monsanto may be reluctant to accept the Bayer bid, which it probably regards as being too low, said Jonas Oxgaard, an analyst with Sanford C. Bernstein & Co. in New York. Bayer holders also said they were concerned the German drugmaker would need to raise its bid -- and potentially overpay. The stock fell 5.7 percent on Monday in Frankfurt and didn't recover at the open on Tuesday, when it traded down 0.3 percent to 84.20 euros, the lowest in more than two years.
Monsanto expects significant growth between 2020 and 2025, and an offer of $135 a share might be acceptable, according to Oxgaard.
"Monsanto doesn't want to be bought," he said by phone. "They have a history of being a standalone company, very focused long term, and they consider themselves the best company in the industry. It rankles a bit to be the best and then be acquired."
Before it's here, it's on the Bloomberg Terminal.
LEARN MORE