In Viacom Battle, Shari Redstone Vaults Past Nemesis Dauman
by and
Billionaire said close to naming new trustees after ousters

Once-estranged daugher said to stay by Sumner's side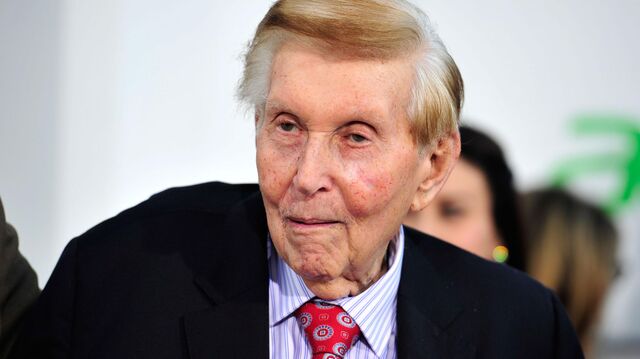 The tables have turned, again, in the battle over Sumner Redstone's empire.
At the billionaire's estate in Los Angeles' hillside Beverly Park neighborhood, his daughter Shari has been a fixture all week, according to a person close to the family, spending time with the father from whom she was once estranged.

Meanwhile, the man the billionaire often treated like a son has been exiled, kicked off the family trust. The abrupt move Friday was met with disbelief by Philippe Dauman, who has been Redstone's confidant for more than three decades and is the chief executive officer of the 92-year-old's media giant Viacom Inc.
Redstone's declining health over the past two years has set off a power struggle in the Viacom board room and in his $20 million mansion. The possibility that Redstone's once-ostracized daughter has gained the upper hand against the media mogul's longtime protege has implications far beyond the lives of this small circle of people. It affects an empire that, in addition to the Paramount movie studio, includes the cable TV channels MTV, Nickelodeon and Comedy Central, and separately, through CBS Corp., the most-watched U.S. broadcast network.
While his health remains frail, a spokesman for Redstone said he has been out visiting family in recent days. He's also been preparing to name new trustees to replace Dauman and another longtime confidant, George Abrams, said the person close to the family, who asked not to be identified discussing private information.
"This is completely consistent with Redstone's management style," said Jeffrey Sonnenfeld, a Yale University professor of management and author of "The Hero's Farewell: What Happens When CEOs Retire." "The only thing not consistent is that he didn't fire Dauman earlier. That's what monarchs do, they kill people in the pipeline who represent a threat."
On Monday, Dauman and Abrams said they filed suit in Massachusetts probate court to block their removal from the trust, arguing that the move against Sumner Redstone's long-held plans and that the nonagenerian is being manipulated by his daughter. The claim couldn't immediately be verified in court. "It is absurd for anyone to accuse Shari of manipulating her father or controlling what goes on in his household," her spokeswoman said in a statement Monday.
For Viacom's long-suffering shareholders, the open warfare at the top of the company can only mean yet another distraction for management, which is struggling to cope with declining cable TV ratings and a stock down 41 percent in the past year. The feuding may impede Dauman's plans to sell a minority stake in Paramount to outside investors, with a spokesman for Redstone saying late Sunday that the billionaire opposes the idea.
The developments could even cost the 62-year-old executive his job, now that he's taking the risk of suing to invalidate actions made in the name of his company's largest shareholder.
That's a striking turn of events for Dauman, who was a young corporate lawyer in the 1980s when he met Redstone and went on to help the media magnate engineer some of his biggest deals, including the $10 billion acquisition of Paramount in 1994. Dauman has been a constant in Redstone's life ever since, even as children, wives and girlfriends came in and out of the picture. He became CEO of Viacom in 2006.
Redstone famously and repeatedly has called Dauman "the wisest man I've ever known." Dauman has spoken of Redstone with great affection, saying in December that the billionaire "has an incredible will to live and an enjoyment of life with some physical disabilities."
Things weren't always so cordial between Redstone and his daughter, who publicly tussled a decade ago when he tried to buy her out of the family holding company, National Amusements Inc. That fight culminated in a fax Redstone sent to Forbes magazine in which he downplayed her role in his businesses. "It must be remembered that I gave to my children their stock," he said, "and it is I, with little or no contribution on their part, who built these great media companies with the help of the boards of both companies."
Shari Redstone, also 62 and also a lawyer by training, has slowly worked her way back into the fold while retaining that 20 percent stake in National Amusements. In a legal declaration earlier this year, Shari said her relationship with her father has "flourished" since his former companion Manuela Herzer was removed from his household.
Last year, Redstone kicked Herzer and his then-girlfriend, Sydney Holland, out of his house and his will. The two women had previously been so close to the billionaire they shared responsibility for his end-of-life health-care decisions.
Dauman was given that duty under a new health-care directive signed in October. Herzer sued, asking the court to reinstate her as Redstone's health-care agent. Though her case was dismissed by Los Angeles Superior Court Judge David Cowan this month, Herzer exposed both Redstone's physical frailty and his still-strong opinions. "I want Manuela out of my life," the mogul said in video-taped testimony.
Now it's Dauman who must make the case that Redstone doesn't have the capacity to remove him as a trustee -- a difficult hurdle, given that Dauman made a legal declaration in the Herzer case saying Redstone was still mentally fit. Shari Redstone is now her father's health-care agent.
The moves Friday prompted a flurry of statements back and forth between Viacom and representatives of the Redstone family as they attempted to interpret what had just happened. Michael Tu, an attorney for Redstone in Los Angeles, said late Friday that the billionaire is "engaged, attentive and as opinionated as ever," adding "that is exactly the Sumner Redstone who made these decisions."
Tu wasn't previously known to anyone associated with the billionaire until last week, Viacom said in a statement Friday, maintaining that he was connected to Shari Redstone. Tu was recommended by Sumner Redstone's other attorneys, a spokesman for the media mogul said. Shari never had any dealings with Tu or his firm, the person close to the family said.
"It is clear that Shari Redstone has isolated her father and put his residence on lockdown, which provides clear evidence of her exercise of undue influence," Viacom said in its statement. "Mr. Redstone is being manipulated and used by his daughter in an attempt to accomplish her long-held goal, which Mr. Redstone has always opposed, of gaining control of National Amusements and Viacom."
In response, Shari Redstone said only that "l fully support my father's decisions and respect his authority to make them." A spokesman for Sumner Redstone said that, far from being on "lockdown," the billionaire has hosted family and friends at his residence, met with attorneys and National Amusements executives, and visited a grandson to watch a baseball game. He'll celebrate his 93rd birthday Friday with family, the spokesman said.
Viacom director Abrams, a family law attorney from Boston, said Saturday the mogul was a friend he'd known for 50 years. "The Sumner Redstone I knew would never have taken this action," Abrams said in a statement. "What is going on now is unsettling and sad."
Before it's here, it's on the Bloomberg Terminal.
LEARN MORE