IMF Calls on Europe to Give Greece 'Unconditional' Debt Relief
by
Europeans should give some debt relief up front, IMF says

IMF staff lay out debt-relief scenarios in new analysis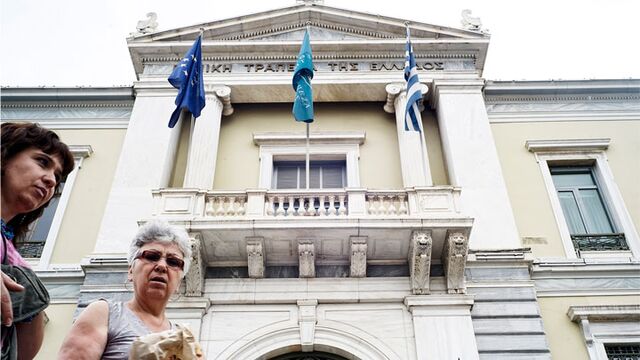 Greece's European creditors must give the nation "unconditional" debt relief for the International Monetary Fund to provide new financing, the Washington-based fund said, laying out its position as Euro-area finance ministers meet in Brussels to discuss the bailout.
Euro-area governments should send a signal to markets that the nation's borrowing burden is sustainable by providing debt relief before the next installment of Greece's 86-billion-euro ($96 billion) bailout is disbursed, according to a preliminary debt-sustainability analysis of Greece's finances that the IMF released Monday.
The IMF is proposing that Greece should be allowed to defer payments on its European bailout loans, underscoring key differences with euro-area lenders over the future of the Greek economy. While Germany has said IMF participation in the Greek bailout is indispensable, the IMF's demands for debt relief may be too extensive for the Europeans to agree on.
"Providing an upfront unconditional component to debt relief is critical to provide a strong and credible signal to markets about the commitment of official creditors to ensuring debt sustainability, which in itself could contribute to lowering market financing costs," the Washington-based fund said in the analysis.
At the same time, fund staff support the wish of the European creditors to make part of the debt relief conditional on Greece implementing the reforms it has promised. IMF staff said debt relief should be completed by the end of the three-year bailout, which took effect last year.
While the fund has said it is open to a separate IMF loan, it has argued that the fiscal targets under the European bailout are too ambitious.
Before it's here, it's on the Bloomberg Terminal.
LEARN MORE