Greek 10-Year Yields Drop to Six-Month Low After Austerity Vote
by
Nation's stocks post biggest gains in western-European markets

Shorter-dated securities reflect easing concern on repayment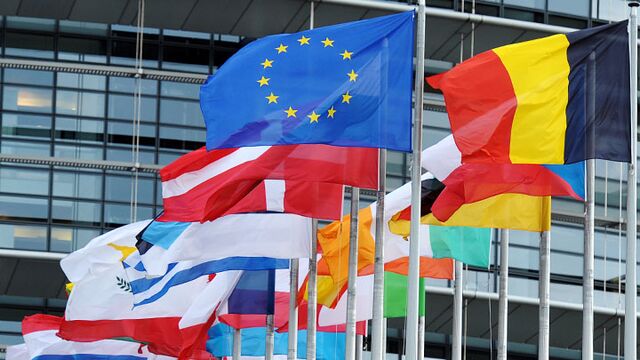 Greek government bonds advanced, pushing 10-year yields to the lowest level in six months, after lawmakers approved additional austerity measures required to unlock more emergency loans.
Yields on notes due in 2017 slid by the most in almost two weeks, signaling concern that investors may not get repaid in the short term has eased. Greece may get as much as 11 billion euros ($12.3 billion) after the completion of a bailout review by its creditors, according to a draft of a European Commission completion report. Greek stocks posted the biggest gains in western-European markets.

The rally in Greek markets comes amid optimism that the euro area's most indebted nation will avoid a repeat of the drama that threatened to push it out of the currency bloc last summer as the government quarreled with creditors over bailout terms. It's a turnaround from just last month when Greek Prime Minister Alexis Tsipras sought a euro-area leaders' summit as discussions stalled.
"There is better sentiment toward Greece," said Hendrik Lodde, a fixed-income strategist at DZ Bank AG in Frankfurt. "They don't want to have a situation like last summer. The euro-zone leaders don't want that either, but the question is if they will succeed to satisfy their wishes."
Yields Slide
Greece's 10-year bond yields fell 23 basis points, or 0.23 percentage point, to 7.22 percent, as of 4:12 p.m. London time, after touching 7.21 percent, the lowest level since Nov. 26. The 3 percent security due February 2026 rose 1.345, or 13.45 euros per 1,000-euro face amount, to 75.405. The yield on the nation's notes due in July 2017 dropped 126 basis points to 8.31 percent.
Still, trading in Greek government debt remains limited. The turnover through the central bank's electronic secondary securities market, or HDAT, totaled 28 million euros this month through May 13, according to data from the Bank of Greece. The volume across all maturities was 41 million euros last month. It peaked at 136 billion euros in September 2004.
The ASE Index of Greek equities climbed 1.5 percent Monday, posting its highest closing level since November. After a 47 percent surge from its February low, the measure has become the year's best performer in the region.
The Eurogroup of 19 finance ministers is due to meet Tuesday to assess Greece's compliance with its latest bailout agreement, struck in mid-2015.
Before it's here, it's on the Bloomberg Terminal.
LEARN MORE