First Nationally Elected Green Head of State Wins Austrian Vote
by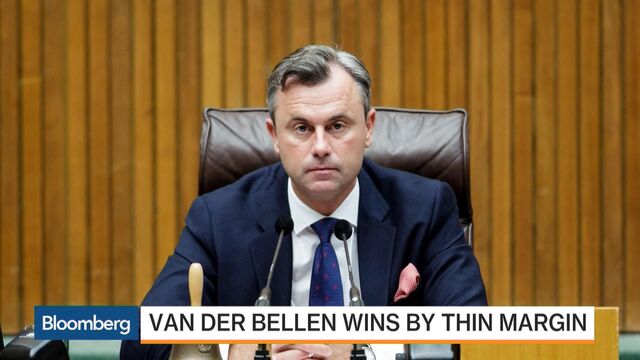 More than 40 years after the Green Party emerged as a global political force, Austria's Alexander Van der Bellen became the first politician from the movement to be voted head of state in a national election.
Van der Bellen, 72, won 50.3 percent of the vote to defeat right-wing populist candidate Norbert Hofer in the Alpine country's closest election ever, the Interior Ministry said. While campaigning as an independent, the chain-smoking economics professor led Austria's Greens for 11 years in parliament and counted their supporters as a key constituency.
The Greens are a coordinated pan-national movement with parties in more than 90 countries. Politicians campaign on topics of ecological sustainability while stressing the role that business can play in stimulating a switch to clean energies. In Austria, where the Green Party shares power on the provincial level, signature reforms have been to eliminate car traffic in cities in favor of bicycle and pedestrian zones.
"Active climate protection is not only an ecological order of the day but also an opportunity for Austria's economy and the labor market," Van der Bellen said on his website during his presidential run. "Innovations and technologies in the field of energy efficiency and renewable energy are one of the largest job engines of the future."
Joschka Fischer was previously the highest profile Green politician to serve in office, as Germany's Foreign Minister from 1998 to 2005. Latvia's parliament elected its Green Party defense minister, Raimonds Vejonis, to serve as president in June 2015.
Before it's here, it's on the Bloomberg Terminal.
LEARN MORE