Deutsche Bank Post-Crisis Mortgage Positions Probed by SEC
by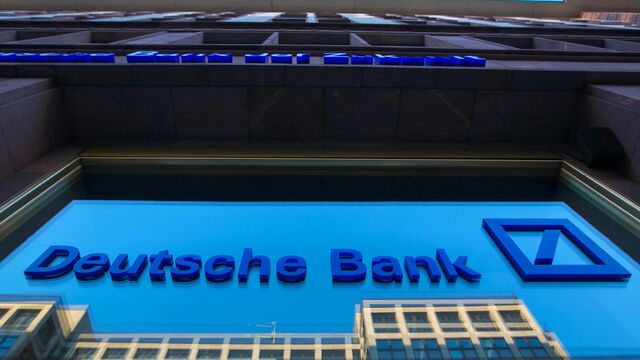 The U.S. Securities and Exchange Commission is investigating whether Deutsche Bank AG inflated the value of securities in its mortgage-bond trading business and masked losses around 2013, according to people with knowledge of the matter.
Investigators are looking at positions overseen by Troy Dixon, who at the time ran the bank's trading for U.S. government-backed mortgage bonds known as agency pass-throughs, said the people. The SEC is asking whether the bank delayed recording losses on those securities over an extended period of time, said the people, who asked not to be identified because the matter is private. 
"We are cooperating with this investigation, which is looking into previously recognized losses on certain positions," said Amanda Williams, a spokeswoman for Deutsche Bank. She declined to comment further. Dixon and an SEC spokeswoman declined to comment.
Losses from the securities could have run into the hundreds of millions of dollars, separate people with knowledge of the matter said. Any delays in writing down bonds may have bolstered the bank's earnings for at least a few quarters in 2013, when fixed-income markets cratered after then-U.S. Federal Reserve Chairman Ben S. Bernanke started talking about the Federal Reserve slowing its program of quantitative easing.
Dixon left Deutsche Bank in 2013, according to records from the Financial Industry Regulatory Authority, an industry-funded overseer. Soon after his departure, he started a hedge fund, Hollis Park Partners.
Cryan's Focus
The investigation is the latest difficulty for Deutsche Bank Chief Executive Officer John Cryan, who has been trying to resolve the firm's legal problems globally. The bank has paid and set aside more than 12.6 billion euros ($14.1 billion) for fines and lawsuits since 2012, the most of any bank in continental Europe.
"I am personally investing time to resolve successfully and speedily open regulatory and legal cases," Cryan wrote in a note to employees earlier this year. "A small group of senior people, led by me, will focus on this."
Under Dixon, Deutsche Bank was the largest trader of mortgage bonds with the Fed during the first round of its quantitative easing in 2009 and 2010, when the central bank bought $1.25 trillion of the securities.
Regulators have previously faulted Deutsche Bank for its reporting and internal controls. In 2013, the Federal Reserve Bank of New York wrote a letter to Deutsche Bank's U.S. executives accusing the bank of having inadequate oversight of its employees and problems in its reporting to both regulators and public investors.
Before it's here, it's on the Bloomberg Terminal.
LEARN MORE