Cryan Says Deutsche Bank 'Disappointed' as Moody's Cuts Rating
by , , and
Unsecured debt rating lowered to Baa2, two levels above junk

'They face some pretty challenging headwinds,' analyst says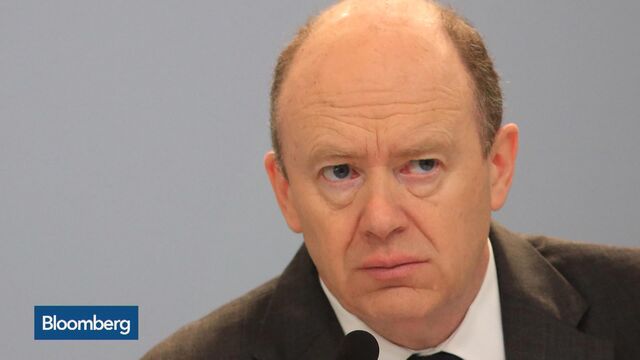 Deutsche Bank AG Chief Executive Officer John Cryan said his bank has never had more capital and could easily repay its debt many times over, responding to a credit-rating cut by Moody's Investors Service.
The ratings company on Monday said the German lender faces mounting challenges in carrying out its turnaround, and cut the bank's senior unsecured debt metric one level to Baa2, two grades above junk. The firm's long-term deposit rating fell to A3 from A2.
"We are very disappointed," Cryan said in an interview on the sidelines of the Institute of International Finance's conference in Madrid. "We have enough capital to repay all of our debt four-times over."
Cryan's planned overhaul of the bank, laid out in October, ran into an industrywide slump in trading and investment banking, as well as a continued decline in interest rates in Europe and Asia, which is squeezing margins. Net income fell 61 percent in the first quarter, leaving the company at risk of a second straight annual loss this year as it tries to resolve legal cases.
"Deutsche Bank's performance over the last several quarters has been weak, and substantial operating headwinds, including continuing low interest rates and macroeconomic uncertainty, will challenge the firm," Moody's said in the statement.
Deutsche Bank climbed 1 percent to 15.32 euros as of 10:22 a.m. in Frankfurt, reversing an earlier decline of as much as 1.9 percent. The lender's shares are down 32 percent this year, more than the 20 percent decline of the 39-member Bloomberg Europe 500 Banks and Financial Services Index.
Getting 'Tougher'
Results so far and the challenges ahead, including a chance of further slumps in consumer and market-linked businesses, will probably force Deutsche Bank to balance restructuring costs with the need to amass capital for stiffened regulatory requirements, Moody's wrote.
"The plan they're trying to execute is a good plan for the bondholder in the long run, but they face some pretty challenging headwinds when you look at the current operating environment," Peter Nerby, a senior vice president at Moody's, said in a phone interview. "They're working on it, but it's tougher than it was."
Moody's had said in March that it was reviewing Deutsche Bank. The company's rating is now stable because of long-term benefits to creditors if it's able to achieve restructuring goals, Moody's said.
'Heavy Lifting'
"All key ratings remain investment grade," Deutsche Bank Chief Financial Officer Marcus Schenck said in a separate statement on Monday. "And they remain in 'A' territory in our counterparty risk assessment and long-term deposit rating, which are most important for our clients."
The CFO told analysts on a conference call this month that while the "challenging operating environment" has complicated parts of the overhaul, management is "focused on doing the heavy lifting for Deutsche Bank, particularly in 2016."
The ratings firm also cut grades for Deutsche Bank Trust Corp., a U.S.-based unit that handles correspondence banking, U.S. dollar clearing and wealth management. That business's long-term issuer rating was lowered one level to Baa2.
Before it's here, it's on the Bloomberg Terminal.
LEARN MORE