Austrian Far Right Defeated in Cliffhanger Presidential Vote
By and
Green Van der Bellen beats Freedom Party's Hofer to presidency

Defeated party doesn't rule out contesting the result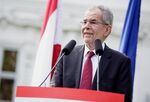 Austria elected economics professor Alexander Van der Bellen to be the country's next president by a razor-thin margin, foiling Freedom Party candidate Norbert Hofer's bid to become the first far-right head of state in western Europe since World War II.
After two rounds of voting that exposed the nation's political divide on migration and relations with the European Union, Van der Bellen, a Green politician who ran as an independent, took 50.3 percent of the vote to 49.7 percent for Hofer. He won by 31,026 votes out of more than 4.5 million cast, according to Austria's Interior Ministry.
 "A lot of work lies before us," Van der Bellen, 72, said Monday in the garden of Schoenburg Palace in Vienna, speaking in front of an Austrian and a European flag. He promised to heal the rift among voters and seek "a different culture of dialogue" that addresses "the real concerns and fears, even the anger of some of the people in our country."
Monday's official result is preliminary until June 1 pending possible legal challenges. Hofer's Freedom Party is looking into the option of contesting the result but won't challenge it just for the sake of it, general secretary Herbert Kickl told the Austria Press Agency.
With the Freedom Party campaigning on an anti-immigration, EU-skeptic platform, the close result in Sunday's runoff election laid bare divisions over fundamental issues like the refugee crisis and kick-starting the Austrian economy as it falls behind EU neighbors. Those divisions augur an uphill battle for the government under new Chancellor Christian Kern in the months ahead.
Government 'Dormant'
"This all started with a dormant government that refused to push reforms and refused to communicate with the electorate," said Thomas Hofer, a political consultant in Vienna. "The government has to engage in crisis management now, it has to deliver more than expected."
Austria was polarized by the voting for what is traditionally a ceremonial role, with most Austrians saying the result would amount to a fundamental decision about the country's political future. Hofer, 45, had said he would use the authority of a popular mandate to weigh into the nation's politics.
"Of course I'm sad today," Hofer said on Facebook. "The effort that went into this campaign isn't lost but is an investment in the future."
Hofer's strong showing "seems to illustrate a deep frustration with the so-called established parties," said Carsten Brzeski, chief economist at ING-Diba AG. "Populist parties can also be successful in core Eurozone countries, which enjoy healthy economies with low unemployment rates."
Political Fallout
The election followed four weeks of political upheaval triggered when Hofer, a veteran official of the Freedom Party, came out ahead in the first round April 24. Neither of the governing parties secured enough support for their candidates to progress to the next round, triggering the resignation of Chancellor Werner Faymann and his replacement by Kern, another Social Democrat.
Van der Bellen said he would work "constructively" with Kern's government and hoped Austrians would say they are better off when his six-year term ends.
His victory puts a breakthrough for right-wing populists across Europe on hold. Hofer's party is allied with Marine Le Pen's National Front in France, the Dutch anti-Islam Freedom Party led by Geert Wilders and the Alternative for Germany party. All are polling strongly ahead of national elections next year.
Regional results showed a split between rural and urban Austrian voters. Van der Bellen took 63 percent of the vote in Vienna and had a majority in all capitals of the eight other provinces, including Salzburg, Innsbruck and Graz. Hofer took most rural areas and one working-class district of Vienna. About 60 percent of men voted for Hofer and an equal number of women for Van der Bellen.
"Financial markets and international observers will probably quickly move their attention again away from Austria, but the ingredients and underlying political trends of the Austrian presidential elections are likely to stay in the Eurozone for a while," ING's Brzeski said.