1MDB Tells Bondholders It's Committed to Ending Abu Dhabi Spat
by and
Malaysia investment fund defaulted on $1.75 billion bond

Missed payment in April part of wider dispute with IPIC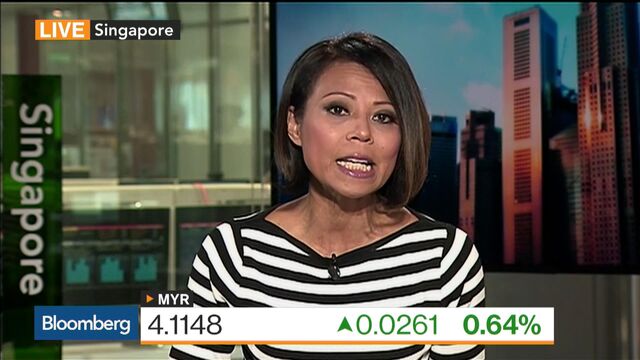 Malaysia's troubled state investment company reiterated to bondholders its commitment to resolving a dispute with Abu Dhabi's sovereign-wealth fund that led to a debt default last month.
1Malaysia Development Bhd. held talks with creditors on Monday and outlined why it withheld payment on bonds due 2022, the company said in a statement after the conference call. 1MDB didn't give details on the issues raised by the bondholders.
The Malaysian investment fund and Abu Dhabi's International Petroleum Investment Co. have been locked in a tussle that spilled over to repayments on bonds issued by 1MDB. That led to a default by 1MDB in April, adding to the financial scandals for the company that is already a target of global investigations into allegations of money laundering and embezzlement. 1MDB has consistently denied wrongdoing.
IPIC, which had guaranteed the 1MDB debt, subsequently made payment after 1MDB defaulted. It also paid the coupon this month for another set of 1MDB securities that it backed.
'Next Steps'
"During the call 1MDB provided a current update on the status of the bonds and outlined the next steps of the process," the Malaysian company said. It "updated holders on the progress 1MDB has made on its rationalization plan."
1MDB amassed more than 50 billion ringgit ($12.3 billion) of debt over six years, using some of it to buy energy assets, including joint ventures with companies in Saudi Arabia and Abu Dhabi. The company said last month it has repaid all short-term and bank borrowings and has a 2.3 billion ringgit surplus.
The company has said that non-payment on the IPIC-guaranteed bonds were because of the dispute and that "it will meet all of its other existing financial obligations and has ample liquidity to do so."
Last month, IPIC paid $50 million on a $1.75 billion privately placed 1MDB bond, and serviced $52.4 million of interest this month on 1MDB's 5.99 percent securities due May 2022.
Lutz Roehmeyer, a money manager at Landesbank Berlin Investment and holder of the May 2022 notes, said there wasn't a need for him to listen in to the 1MDB call.
"We have a guarantee and see no point for discussions," he said before the call. "We expect to be paid as scheduled in the bond prospectus. I'm very much relaxed" about the situation, he said.
Roehmeyer said any early buyback or redemption of the bond by 1MDB would not be in the interest of bondholders as most of them bought at or over 100 cents on the dollar.
Before it's here, it's on the Bloomberg Terminal.
LEARN MORE