The Suddenly Tedious Lives of European Equity Market Strategists
by
Average forecast calls for flat annual returns for Stoxx 600

Europe's equity benchmark is trading near 3-year average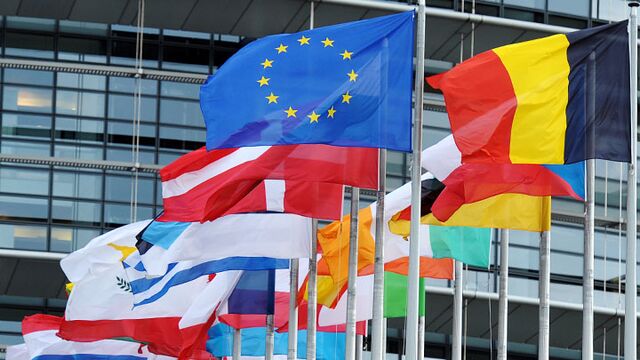 In the recent past, European stock strategists have been called upon to sort out Greek politics, judge sovereign solvency risk, and gauge the impact of wars in places like Ukraine. The job has been many things, but rarely has it been boring -- until now.
For the first time in two years, analysts trying to fathom the direction of Europe's equities just left their forecasts unchanged for two straight months, and are on average expecting flat returns for shares. From Germany to Spain, economies are growing -- but no data point has proven strong enough to stem the longest stretch of outflows from European stock funds since the financial crisis.
It's not like strategists have done a bad job of calling the market. Last year, they came within 2 percent of nailing the Stoxx Europe 600 Index's annual move and quickly adjusted estimates in January when equities started falling anew. The problem has been the market itself, which despite looming dramas like Brexit has shown a propensity to grind in the place it was at for the better part of three years.
Earnings have been mixed, the economy hasn't picked up enough to lure buyers, and valuations are stuck above the five-year average. Natixis SA's Sylvain Goyon says his meeting notes have barely changed in five months.
"It's difficult to have an aggressive bet either way because we have no ammunition to feed into our valuation model," Goyon said by phone from Paris. "There's no spark. Now we have our backs to the wall and need to find our way out."

While the Stoxx 600 surged to a record last April and tumbled to a two-year low just 10 months later, it has since returned to trading between 300 and 350, a range it occupied for two years before the peak, and is sitting at its three-year average. A rally since February's low has stalled after reaching a three-month high on April 20.
Little seems to be able to move the market as equities enter a historically weak calendar period. Goyon, while predicting stock gains of 3.9 percent this year, says the argument that equities are cheap versus bonds is no longer enough, and waiting for profits to increase has grown tiring. Investors are unimpressed with a 12th quarter of economic growth in the region and the European Central Bank stimulus. Bankhaus Lampe strategist Ralf Zimmermann agrees.
"Stocks aren't capturing any of the potential catalysts," Zimmermann, who predicts the benchmark will end the year 0.2 percent lower, said by phone from Dusseldorf, Germany. "Nothing seems to be a game changer. I'm just writing my half-year outlook and I could basically copy-paste everything. It's dull and it's particularly difficult right now to take a stance."
Naturally, not everyone sees stasis. JPMorgan Chase & Co. and UBS Group AG are both calling for strong moves before the year is over, albeit in opposite directions. Mislav Matejka at JPMorgan estimates an 11 percent annual decline in the Stoxx 600, while UBS's Karen Olney, the biggest bull among those surveyed, predicts gains of 9.3 percent. The average of nine forecasts puts the year-end target at 365, or 0.2 percent lower, versus a drop of 8 percent as of Monday's close.
"My worry is that people are still too complacent on the risks to global growth," said Matejka, a global equity strategist at JPMorgan. "People are disappointed that what had been a clear opportunity in European stocks isn't working."
Investors have pulled money from European stock funds for 15 straight weeks, leading to outflows of $32 billion this year alone, and Matejka says the bleeding isn't over.
UBS's Olney, on the other hand, says cuts to earnings estimates will start to reverse and provide a trigger for more gains. She's projecting an increase in profits this year, compared with the average forecast for a contraction.
Still, indications of a stock recovery are yet to show, and fund managers aren't biting. They increased their cash allocation this month to 5.5 percent, near the highest level since 2001, according to a Bank of America Corp. survey.
"Very few asset allocators want to buy into a market in limbo," said Natixis's Goyon. "We're still calling for gains this year, if all things remains equal. But the only thing you can do is what everyone else is doing -- holding cash."
Before it's here, it's on the Bloomberg Terminal.
LEARN MORE