Modi Euphoria Threatens to Turn Into Bond Ennui as Reforms Slow
by
India story 'more boring now' as Brazil appeals, says Ashmore

Rupee stability, credible central bank keep India attractive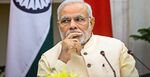 Massive, game-changing and overwhelming were among the descriptions investors used for Indian Prime Minister Narendra Modi's election victory in May 2014. Two years on, the slow pace of implementing policy threatens to sap interest.
The rupee is the worst performer among currencies of the four biggest emerging markets this year. Indian sovereign bonds have lagged peers in Brazil and Russia this quarter, after delivering the best returns among the BRIC nations since the election win. Global investor holdings of rupee debt, which almost doubled in Modi's first year, have slipped about 1 percent in his second.
"India was a good story, it is not a bad story, but it is more boring now that the early excitement has worn off," said Jan Dehn, London-based head of research at Ashmore Group Plc, which manages about $51 billion in emerging markets and has scaled down its India position. "We need some new catalysts. The most exciting region in emerging markets right now is South America, notably Brazil."

Modi took charge with the strongest lower-house mandate in three decades and has relaxed foreign investment limits, deregulated gasoline prices and cut red tape since taking office on May 27, 2014. Yet opposition parties have blocked his plan to implement a goods and services tax that's key to balancing the budget while building infrastructure vital to spurring growth and curbing inflation. His backing off on proposals to ease land acquisition, simplify labor rules and scrap a retrospective levy on companies has also frustrated investors.
Rupee sovereign notes returned an annualized 12.4 percent between Modi's victory on May 16, 2014 and March 31, 2016, Bank of America Merrill Lynch indexes show. That exceeded gains of 10.8 percent in Brazil, 9.8 percent for Russia and 9.2 percent on Chinese debt, while also beating predecessor Manmohan Singh, who saw government securities return 5.9 percent during his tenure between 2004 and 2014.
Asia's third-largest economy grew 7.6 percent in the year to March 2016. Consumer-price gains have more than halved to 5.39 percent from an unprecedented 11.5 percent in November 2013 amid plunging oil prices and as Modi joined forces with Reserve Bank of India Governor Raghuram Rajan to set an inflation target for the first time.
'Fix The Plumbing'
"The immediate task for the Modi Administration when coming to power was to continue to fix the plumbing,'' said Mark Evans, an emerging markets fixed-income analyst at Investec Asset Management Ltd. in London. "While some are disappointed that we have not seen more big-bang reforms, we take a more constructive view where the groundwork is gradually being laid."
Besides lowering borrowing costs to a five-year low, RBI Governor Rajan has also lent strength to Modi's efforts to clean up state-run banks and boosted India's foreign-exchange reserves to a record. That's helped cut currency swings by almost a third in the past two years. The nation's 10-year bonds still yield 7.47 percent, the highest in Asia after Indonesia, with Rajan seen lowering interest rates at least once more this year.

"We have a positive view on Indian bonds based on some of the major reforms which have impacted bondholders and for me that really is the RBI institutionalizing the framework to target inflation," said Rajeev De Mello, who oversees about $10 billion as head of Asian fixed income at Schroder Investment Management Ltd. in Singapore. "The political stability is definitely a positive, but the government could have done more from the savings from lower oil prices."
The lack of an upper-house majority has allowed opposition parties to thwart Modi's attempts to enact key policies such as the GST. He is also still struggling to get state governments on his side to simplify land, license and tariff processes, Raja Mukherji, Hong Kong-based head of Asian credit research at Pacific Investment Management Co., said in an April interview.
"The pace of policy changes has been more gradual than initially expected," said Jens Nystedt, a New York-based emerging-market debt manager at Morgan Stanley Investment Management, which oversees $405 billion. "The passage and eventual implementation of GST will be closely followed by the market. We have room to add to our India government bond holdings if the legislative progress and RBI credibility continues."

Indian sovereign notes are hitting a plateau, handing investors a return of 1.4 percent this quarter, better only than China among the BRICs. Foreign holdings of local-currency debt have declined 78.15 billion rupees ($1.16 billion) in 2016, after rising 505.1 billion rupees last year. The outflows have contributed to the rupee's 1.7 percent decline this year, making it Asia's worst performer.
"Modi still needs to deliver to get the interest of foreign investors more strongly," said De Mello from Schroder. "Two years are over and as time now ticks, investors are worried that the government will be thinking of re-election and the window for difficult reforms is closing fast."
Before it's here, it's on the Bloomberg Terminal.
LEARN MORE