Merkel on Rescue Mission Prods Erdogan to Stick to Turkey Deal
By and
German chancellor signals visa talks with EU may take longer

Istanbul talks underscore Merkel's balancing act on migration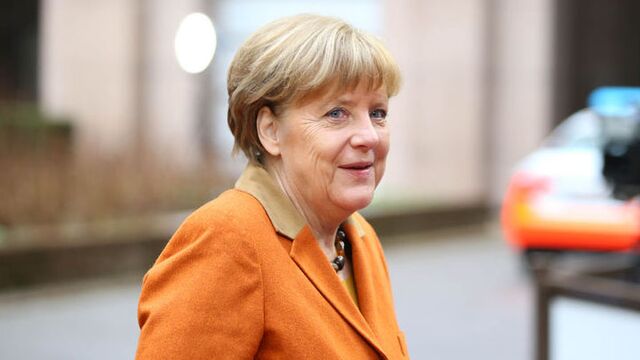 German Chancellor Angela Merkel said she's sticking by a refugee deal with Turkey and urged President Recep Tayyip Erdogan to do the same after the two leaders met at a time of increasingly rancorous relations.
"This isn't my first political experience with something where the implementation turns out to be difficult," Merkel told reporters after the talks on Monday in Istanbul. "If it takes a bit longer to carry it out completely, we'll just have to have intensive talks."
QuickTake QuickTake Europe's Refugee Crisis
Faced with criticism in Germany of Erdogan's tightening grip on power, Merkel questioned the independence of Turkey's judiciary and suggested a tentative July 1 target date for Turks to travel visa-free to the European Union probably won't be met, saying the government has to meet the EU's terms in the refugee accord first. "In sum, I can say that open questions remain," she said.
Merkel's fifth visit to Turkey in eight months underscores her reliance on Erdogan to hold back migrants after Germany took in the most refugees since World War II last year. For his part, Erdogan has hammered the EU's terms for granting visa-free travel and the slow delivery of 6 billion euros ($6.7 billion) in EU funds in return for halting the influx of refugees making their way to Europe.
Despite the public barbs, Merkel's Chancellery is convinced the EU-Turkey deal will hold given the Turkish leader's desire to receive the funding and secure the visa pledges, according to two people close to the German leader. Erdogan also wants to root out the organized crime networks that have sprung up along the Aegean Sea coast, the crossing point for more than 1 million migrants last year, according to the people, who asked not to be identified discussing private deliberations.
Merkel said she's convinced the refugee accord "is in our mutual interest, so we will have to keep working on it." In an interview with Frankfurter Allgemeine Sonntagszeitung published Sunday. the chancellor said that "what irritates me is that it sometimes looks almost as if people are looking forward to it failing."
Erdogan Talks
Merkel considers the Turkey accord forged in March as the linchpin of her plan to solve Europe's refugee crisis. Even though it was outgoing Prime Minister Ahmet Davutoglu who led the negotiations with the 28-member EU, Erdogan has supported the deal and given his approval every step of the way, according to the German officials.
"Merkel is ready to swallow a lot to keep Turkey on board," Josef Janning, head of the Berlin office of the European Council on Foreign Relations, said by phone. "She currently has no alternative but to work with the Turks on the refugee issue."
German Interior Minister Thomas De Maiziere in an interview this month credited the accord -- along with border closings in the Western Balkans -- with drastically reducing the refugee influx to Germany this year, partly by signaling to migrants that most of them have no hope of winning asylum if they cross the Aegean to Greece from Turkey.

Merkel was in Istanbul for the United Nations-sponsored World Humanitarian Summit. As part of the balancing act she's facing, she met members of Turkish civil society on Sunday to hear their criticism of the government. Turkey on Friday moved closer to putting many leading Kurdish politicians on trial, as parliament passed a constitutional amendment depriving almost all elected lawmakers from the main pro-Kurdish party of their legal immunity.
Merkel said she told Erdogan that the effort to lift immunity is "a source of deep concern." She also said "we need independent media, an independent judiciary and a strong parliament."
Newly Anointed
One of Erdogan's closest lieutenants, Binali Yildirim, was on Sunday anointed chairman of the ruling Justice and Development Party, or AKP, and is premier-designate. Davutoglu, once Merkel's main interlocutor on migration, abruptly announced his resignation this month after losing a power struggle with Erdogan. The presence of a loyalist as premier helps pave the way for Erdogan to transform Turkey from a parliamentary to a presidential system, with much greater power resting with him.
In his first speech upon taking over for Davutoglu as AKP leader, Yildirim said the time has come for the EU to be clear about Turkey's membership process.
"The EU has one thing to do," he said Sunday. "It has to put an end to confusion on the subject of Turkey's full membership, and on migration. The time has come to know what they think about Turkey."
While Germany's opposition Greens and Left Party have blasted the deal-making with Erdogan, resistance has also emerged from within Merkel's ranks. Norbert Lammert, president of the lower house of parliament and a member of Merkel's Christian Democratic Union party, accused Erdogan last week of harboring "autocratic ambitions."
The Turkish leader has compounded the standoff by pursuing legal action against a German television comedian who recited an obscene poem on air about Erdogan in April. The tension is set to ratchet up further as the lower house, or Bundestag, prepares to vote on a resolution in the first week of June identifying Turkey's Ottoman-era killings of ethnic Armenians as genocide.