Hong Kong's Boat Rocking as Political, Economic Storms Converge
by
Leung most-unpopular leader as retail, property sales slump

Finance sector in doldrums as bond, stock offerings plunge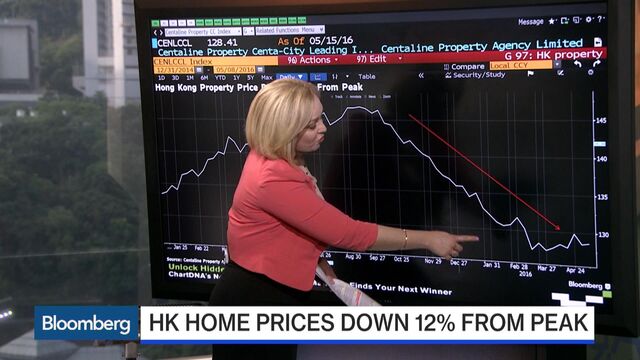 Zhang Dejiang, China's third-highest official, said at a banquet in Hong Kong last week that the city's people should avoid "rocking the boat" with street politics if they want to avoid harming the economy. It may be too late for that.
The following charts show Chief Executive Leung Chun-ying is the city's least-popular leader since the return to China's sovereignty in 1997, as retail, property and financial sectors fall into a deepening slump.
Chart 1: An HKU Public Opinion Program poll shows Leung's approval rating has fallen to an average of around 40, on a scale of 0 to 100, after starting from a lower base than his predecessors amid student protests against a plan to introduce national education classes that were seen as overly favorable to China's Communist government. The city deployed as many as 6,000 police officers for each day of Zhang's trip to protect the China's state leader and keep protesters at bay.

Chart 2: Hong Kong retail sales plunged 12 percent in the first quarter as China's economic slowdown and anti-corruption campaigns wrecked business for shops selling luxury goods. Hong Kong's economy unexpectedly contracted 0.4 percent in the first three months of the year compared to the prior quarter -- the steepest drop since 2011, official data show.

Chart 3: Home prices in the city dropped about 12 percent from a peak, data compiled by Centaline Property Agency Ltd. show. Goldman Sachs Group Inc. predicts a further 20 percent drop as borrowing costs rise through 2018. The number of the city's homeowners with apartments worth less than their mortgages soared 15 times in the first quarter, according to the Hong Kong Monetary Authority.

Chart 4: Hong Kong's ambition to be an international trading hub for China's currency has suffered a blow after a shock August exchange-rate devaluation. Sales of yuan-denominated debt fell 38 percent to 286 billion yuan in 2015, the first decline since the market's inception in 2007, according to data compiled by Bloomberg. They dropped 64 percent so far in 2016 from the same period a year ago.

Chart 5: Hong Kong initial public offerings have fallen 41 percent in 2016 from a year ago as the benchmark equity index that includes local and mainland companies slumps. The Hang Seng Index is down 9.4 percent this year, following a 7.2 percent drop in 2015.

Before it's here, it's on the Bloomberg Terminal.
LEARN MORE