Cyprus's Anastasiades Sees Support Cut in Parliamentary Vote
by and
Anastasiades to need cross party support for passing reforms

Voters turn to new smaller parties to express dissatisfaction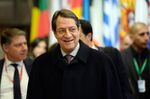 President Nicos Anastasiades's center-right Disy party emerged as the largest political group in parliamentary elections Sunday albeit securing fewer seats in Cyprus's 56-seat chamber than in the 2011 ballot, a result that will make it harder for the Cypriot leader to push through structural reforms following his country's bailout program exit.
Disy secured 30.7 percent of the vote compared with 25.7 percent for the main opposition communist Akel party with all votes counted, according to data from the Interior Ministry. Those results translate into 18 seats for Disy, down from 20, and 16 for Akel, a fall from 19, according to chief election official Constantinos Nicolaides.

While Cyprus's presidential system means the result has no direct impact on the country's government, which is appointed by Anastasiades, the Cypriot leader will now be dependent on support from lawmakers in smaller parties for passing legislation on reforms needed for Cyprus to be able to maintain bond market access following its bailout exit.
"The main concern remains whether the government will be able to pass through parliament the remaining structural reforms set in its three-year economic adjustment program which was officially concluded on March 31," Axia Research analysts Constantinos Zouzoulas and Damiani Papatheodotou said in a May 20 note to clients. "The most likely scenario is that Disy will need the support of several parties in its effort to pass economic and structural reforms."
Cyprus, an island nation in the eastern Mediterranean, has gone from a sick patient that came close to shattering the euro area in March 2013, when a haircut on deposits was imposed, as part of a 10-billion euro lifeline from European partners and the International Monetary Fund, to a model of economic adjustment, with some bumps along the way. It returned to economic growth last year, after making a comeback to international bond markets in 2014.

Voter disillusionment
The parliamentary vote, the first since Cyprus's bailout, saw an increase in support for smaller parties with the far-right Elam party entering the legislature for the first time with two lawmakers, and an abstention rate of 33 percent, as voters spurned traditional political groups amid disillusionment following the country's economic crisis and job losses.
"Voters expressed dissatisfaction either by abstaining or choosing smaller parties and now the traditional parties will need to start a dialog to reach a common understanding on important issues such as the economy, otherwise parliament could become dysfunctional," former foreign minister Erato Kozakou-Markoulli said in a telephone interview.
Disy's support for reunification of Cyprus won't face any risk as the Akel party also favors reuniting the island which has been divided into the Turkish Republic of Northern Cyprus and the Republic of Cyprus in the south since 1974 when Turkey invaded after a coup to unite the island with Greece, Zouzoulas and Papatheodotou said.
The new parliament will have to take "critical and important decisions" for the future of the country, Anastasiades said in an e-mailed statement following the result. "I will honor my institutional role in creating unity and a climate of consensus to confront the major challenges before us."
"With 18 seats in parliament and less than a majority, even with the Diko party, it's going to be difficult for the minority government to pass some of the important reforms that were still left hanging at the end of the bailout program such as the public-sector wage reform bill," said Fiona Mullen, director of Nicosia-based Sapitenta Economics. "I think we can forget privatization altogether."
Before it's here, it's on the Bloomberg Terminal.
LEARN MORE