Ex-PBOC Adviser Says China Needs Infrastructure Investment
Bloomberg News
Nation 'may miss a historical opportunity,' Yu Yongding says

The Chinese government has rarely been 'not-so-optimistic': Yu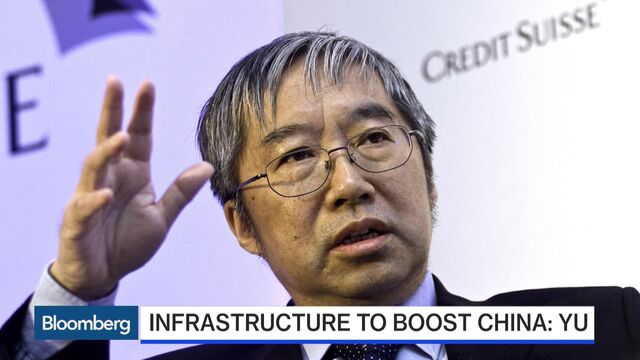 Increasing infrastructure investment is the best way to boost economic growth in China and doing so doesn't undermine efforts to overhaul the economy, according to former central bank adviser Yu Yongding.
"If China does not increase infrastructure investment now, it may miss a historical opportunity," Yu said Saturday at an economics conference in Beijing. "In order to reduce excess capacity, while adhering to structural reforms, it is absolutely necessary for the Chinese government to support infrastructure investment to offset the negative effect of declining real estate investment growth on economic growth."
The time is right because of the global economic downturn, falling commodity prices, the low interest rates in Western countries and overcapacity in China, said Yu, now a senior research fellow at the Chinese Academy of Social Sciences. 
Regional debt surged in China after the 2008 global financial crisis, when the government urged provinces that were then banned from selling bonds to boost infrastructure spending with a 4 trillion yuan ($611 billion) stimulus package.
The stimulus was right to do because without it "China would have experienced a hard landing," Yu said. "At the time it was hard to avoid the increase in debt and leverage."
China is unlikely to experience a financial crisis as long as there's "no large-scale capital flight," he said. "The more likely scenario is a crisis caused by rising non-performing loans, in which banks refrain from lending and firms from borrowing."
Yu also said top officials have a dim view of prospects for a rebound, as shown by a recent interview with an "authoritative person." The unidentified official told the China Communist Party's People's Daily newspaper that economic performance will not be U-shaped or V-shaped but rather "L-shaped" for more than one or two years.
"In the past the Chinese government has rarely issued such a clear and not-so-optimistic judgment regarding economic growth," Yu said.