Austrian Razor-Edge Vote Means Absentees to Decide President
by and
Freedom Party's Hofer and Green's Van der Bellen seek top post

Country polarized by election, split between urban and rural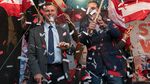 Austria's presidential election is heading for a photo finish after the anti-immigration Freedom Party and a Green Party-backed candidate were virtually tied in the runoff vote, laying bare the country's political divisions.
The outcome will be decided by about 740,000 absentee ballots being counted Monday after the Freedom Party candidate, Norbert Hofer, failed to press home his first-round advantage to secure a clear victory over his Green opponent, Alexander Van der Bellen.  Pollsters projected that Van der Bellen needs to capture about 60 percent of the mail votes to win, a possibility that Hofer -- a European Union-skeptic -- alluded to.

"It can indeed happen that we won't be ahead tomorrow, when the voting cards are counted," Hofer told supporters gathered in a beer hall in Vienna's Prater park late on Sunday. "But I tell you one thing: We have won at any rate."
The Interior Ministry plans to announce the results between 3:30 p.m. and 4 p.m. in Vienna, according to the Austria Press Agency.
Austria was polarized by Sunday's run-off for what is traditionally a largely ceremonial role, with most Austrians saying the result will amount to a fundamental decision about the country's future political direction. Hofer, 45, has pledged to use the authority of a popular mandate to weigh into the nation's politics, breaking with decades of Austrian presidents who agreed to play a largely ceremonial role.
Building Bridges
Hofer led Van der Bellen 51.9 percent to 48.1 percent after all regular ballots cast were counted, a margin that both candidates acknowledged was too close to call.
"If I'm elected I'll certainly endeavor to build bridges over the trenches that have been dug, to certainly not dig them deeper, and to make an effort to take everybody in this country with me," Van der Bellen, 72, told supporters at his post-election party in a palace in Vienna's Josefstadt district, where he took 78 percent of the vote.
The election followed four weeks of political upheaval triggered when Hofer, a veteran official of the Freedom Party, came out ahead in the initial round April 24. Neither of the governing parties secured enough support to progress to the next round, prompting the resignation of Chancellor Werner Faymann and his replacement by fellow Social Democrat Christian Kern.
"The government has a huge problem, no matter what the result," said Peter Filzmaier, a professor of political science at Krems University. "The relaunch with the new chancellor must succeed this time, or else this government is history."
Regional Divide
Regional results underlined the split between rural and urban voters. Van der Bellen took 61 percent of the vote in Vienna and had a majority in all but one capital of the eight other provinces, including Salzburg, Innsbruck and Graz. Hofer took most rural areas and two working-class districts of Vienna. Sixty percent of men voted for Hofer and an equal number of women for Van der Bellen.
Victory for Hofer would mark a breakthrough for right-wing populists across Europe. His party is allied with France's National Front, whose Marine Le Pen failed to win office in regional elections earlier this year. The Dutch anti-Islam Freedom Party led by Geert Wilders and the Alternative for Germany party are also allies. All three are polling strongly ahead of national elections in France, the Netherlands and Germany next year.
Austria's Freedom Party has tapped into a pool of disenchanted voters by stoking concerns that a new wave of immigrants from the refugee crisis could overwhelm faltering education and medical systems while exacerbating unemployment and taking already-scarce affordable housing.
Popular Disaffection
It has capitalized on popular dissatisfaction by promising to make more assertive use of the presidential powers assigned by the constitution. Hofer says he may dismiss governments that don't heed his advice on immigration or taxes and call fresh elections. He also wants to make greater use of referendums for policy issues.
Freedom Party leader Heinz-Christian Strache, in an interview with public broadcaster ORF Sunday, suggested that the increased turnout in the runoff showed that other parties had rallied around Van der Bellen to keep out Hofer.
"What we've seen is that the entire encrusted political system stood up against Hofer, but 50 percent of the Austrians followed Norbert Hofer's way," Strache said.
Pollsters from ORF and the Austria Press Agency, the national newswire, projected that Van der Bellen will win about 60 percent of the absentee ballots. ORF says it will be just enough to give him the win, while APA projected Hofer will hold on by the slimmest of margins.
If so, Hofer has promised to reject laws like that for a planned free-trade agreement between the EU and the U.S. and said he would join government representatives at EU meetings in Brussels. While he wouldn't push for Austria to leave the EU, he's said he'd vote against joining the bloc if that decision was due now.
"Regardless who wins, this result shows that the government has 18 months left to prove that they are able to deal with the challenges: deal with the refugee crisis, generate enough growth so that Austria isn't falling behind, come up with ideas what you can offer to globalization losers," said Stefan Bruckbauer, chief economist at UniCredit Bank Austria AG. "If the government succeeds with that and has a bit of luck as well, that polarization can be overcome."
Before it's here, it's on the Bloomberg Terminal.
LEARN MORE