Wave of Terror Hits Aviation in African Nations Facing Unrest
by
Downed EgyptAir plane may be fourth attack in seven months

Two bombing plots in Somalia show growing sophistication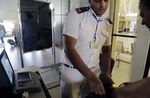 If the sudden disappearance of an EgyptAir flight turns out to be the work of terrorists, it will be the fourth such attack in the past year on air travelers in North African countries battling militant Islamic groups.
Even as airports in Europe and North America have strengthened security, experts say that gaps in screening of employees and passengers in the Middle East and Africa are being exploited in a way that security officials say should alarm all nations that fly to those areas.
"It calls into question the airports in that region," said John Halinski, the former deputy administrator of the U.S. Transportation Security Administration. "It's something that needs to be looked at not just in those countries, but in any country that flies into that country."
At least two of the previous attacks in the region were said by local authorities to involve airport employees who used their positions to skirt security, including October's bombing of a jet carrying Russian tourists home from an Egyptian beach resort and an incident in February where explosives in a laptop blew a hole in a Somali plane. That, said Halinski, means authorities should be looking carefully at the possible involvement of insiders if the EgyptAir flight is determined to have been downed by a bomb.
Tracking Debris
The EgyptAir Airbus A320 carrying 66 people disappeared from radar on Thursday at 37,000 feet (11,300 meters), about 180 miles (290 kilometers) from Egypt's coast, according to online flight tracker FlightRadar24.
There's evidence the jet turned and made abrupt movements in its final moments, according to Greek radar reports. That's consistent with what would happen if a plane broke apart and the radars, which reflect radio waves off of metal pieces, tracked the debris, said John Cox, a former airline pilot and accident investigator who is president of Safety Operating Systems, an aviation consulting firm.
Salvage teams have found debris in the Mediterranean Sea, including personal items, body parts, and pieces of the plane, Egypt's military spokesman said Friday on an official Facebook page.
While some type of structural failure hasn't been ruled out, a terrorist act appears to be the most probable cause, according to Egyptian Minister of Aviation Sherif Fathy.
Speaking anonymously to discuss the investigation, a U.S. intelligence official said terrorism wasn't being ruling out although there's no definitive evidence to conclude the crash was a result of such an act.
Russian Tourists
The sudden disappearance of a routine flight, without adverse weather or other mitigating factors, echoes the Oct. 31 bombing of Metrojet Flight 9268, which was flying from Sharm el Sheikh, Egypt, to Saint Petersburg, Russia, with 224 people aboard. Airport employees are suspected of helping terrorists plant a bomb on the plane, Reuters reported.
An offshoot of the Islamic State terrorist group took credit for the bombing.
The militant al-Shabab group in Somalia used similar tactics to slip a bomb aboard Daallo Airlines Flight 3159 in Mogadishu on Feb. 2. An explosive embedded in a laptop blew out the side of the plane as it was climbing to cruise altitude, killing the man who had carried it aboard. The Airbus A321 stayed intact and pilots landed safely a short time later.
Somali authorities released video days later showing two airport employees carrying the laptop past security screeners.
Checkpoint Bombed
Then on March 7, another bomb in a laptop exploded as a group was being examined at a security checkpoint at the Beledweyne airport in central Somalia, injuring several people, according to news reports.
Halinski, the former TSA official, said the series of attacks leads him to suspect that if a bomb was placed on the EgyptAir plane, it was done in that region and not in Paris, where the downed flight originated. The plane had visited Eritrea and Tunisia, as well as Cairo, in the days before it disappeared, according to flight records.
"There are so many people who can put hands on the aircraft, it presents a real challenge," Halinski said.
While authorities in Paris would have given the plane at least a cursory security sweep before allowing passengers to board, there are many places on an aircraft where a bomb could be hidden, he said.
Using Insiders
The TSA has taken steps to increase security screening of U.S. airport workers, but should be doing more, Halinski said. Islamic State and other terror groups have become adept at recruiting new members via the Internet, and using insiders appears to have become a favored tool, he said. Most airport workers, such as ground crew, don't get the same security screening as passengers.
"We're all concerned about insider threats these days," said Jeffrey Price, a professor at Metropolitan State University of Denver who has written textbooks on aviation security. "It's the most insidious threat. You're attacked by someone who's already on the inside."
"It is hard to get an explosive device through security, but it's not that hard to get a job at the airport," Price said.
Before it's here, it's on the Bloomberg Terminal.
LEARN MORE