TV Networks Hoard Reruns to Grab Some of Netflix's Binge Viewers
by
Putting episodes on VOD after they air keeps fans engaged

More exposure now may mean less money from streaming services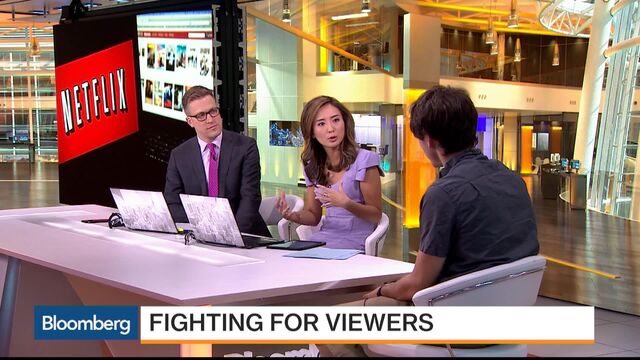 With live viewership of most U.S. TV channels in decline, the most-watched networks are trying to lure audiences back by making it easier to catch reruns.
As they unveil their 2016-2017 program schedules this week in New York, the four major broadcast networks have called out the need to offer viewers on-demand access to current shows, a prize known as in-season stacking. NBC has acquired those rights from most of its producers, entertainment Chairman Bob Greenblatt said, as has CBS, according to Glenn Geller, that network's president of entertainment.
"That's the future of our business," Greenblatt said on a call with reporters. Gary Newman, co-chairman of Fox, echoed the point during a party in New York's Central Park, saying the network has such rights to all of its shows for the second year in a row.
The idea is that a pay-TV viewer hearing about a new show that's been on for weeks can catch up and then watch live as new episodes debut. The networks used to believe cable providers' video-on-demand platforms encouraged fans to skip live TV and watch later. They'd make less money because they don't get paid for ads seen after a certain period of time. Yet research from NBC parent Comcast Corp., along with the soaring popularity of Netflix Inc., indicates viewing increases when more episodes are available.
'Untapped Value'
"It is one of the biggest sources of as-yet untapped value for these companies," said Michael Morris, an analyst with Guggenheim Securities.
Until recently, those rights weren't widely available. The studios that produce and own the shows only let networks offer a few recent episodes on-demand. Millions of TV viewers eager to catch up on a show were shut out.
The studios, including the production arms of the networks themselves, then banked millions of dollars by licensing programs to streaming services like Netflix, Amazon and Hulu, which offered full seasons on demand and attracted millions of binge viewers.
There is a "tremendous amount of money" to be made from selling these shows to streaming services, Walt Disney Co. Chief Executive Officer Bob Iger said at an investor conference Wednesday. "That's a pretty good business to be in."
Fighting Back
Yet the rise of streaming services has added to concerns about the future of conventional pay TV, which generates a big share of the profit at companies like Disney, the owner of ABC and ESPN, 21st Century Fox Inc. and Comcast. Pay-TV operators and programmers blame streaming services, and Netflix in particular, for some of their declining viewership and have started to work together to confront a shared threat.
To compete with Netflix's $8- to $12-a-month price, they have partnered to create smaller bundles of TV channels sold over the Internet that appeal to people who don't want to pay the typical $85 monthly cable bill.
With stacking rights, the networks, along with their cable and satellite partners, are trying offer viewers a way to watch older episodes of shows well before they appear on streaming services.
That's why, during a week of star-studded presentations and rooftop parties where networks pitch advertisers on their new and returning shows, executives and agents are as preoccupied with the rules governing reruns as they are over which shows live or die. 
'Major Factor'
"I have an NBC show that was destined to get picked up, that I was told was getting picked up, and at the last minute it didn't because another studio made a better deal in regards to stacking for their show," said Leslie Siebert, a partner at the Gersh Agency who represents actors including Jeffrey Tambor and Allison Janney. "That was a major factor."
Netflix has said it won't pay as much for shows that have in-season stacking. Pay-TV operators, for their part, may try to build even deeper libraries and compete more directly with Netflix, Hulu and Amazon by seeking the rights to show programs after they leave the air.
"It's still not enough, but they are trying," Siebert said. "I watch clients' shows as I need to watch them, so I watch most of my TV on my iPad or on some sort of streaming service. Usually never live."
Before it's here, it's on the Bloomberg Terminal.
LEARN MORE