Sequoia Sharply Cuts Valeant Stake, Limits Position Sizes
by
David Poppe made announcement at a New York meeting Friday

Fund changes rules to limit any holding to 20% of assets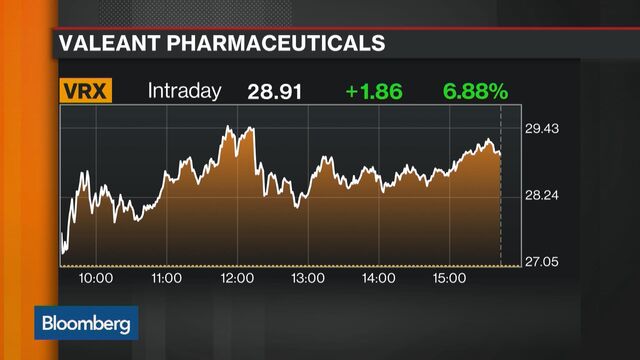 The Sequoia Fund, a top investor in Valeant Pharmaceuticals International Inc., told clients that it has significantly reduced its stake in the troubled drugmaker since the end of March.
David Poppe, the manager of the fund and chief executive officer of Ruane Cunniff Goldfarb, announced the move at an annual investor day in New York on Friday, according to Anne Granfield, an outside spokeswoman for Ruane Cunniff. Poppe, who didn't specify the size of the cut, also said that going forward no security in the fund could exceed 20 percent of Sequoia's assets. Ruane Cunniff manages the $5.1 billion Sequoia Fund as well as other assets.
Valeant has lost about 90 percent of its value since peaking in early August as the company came under fire for its accounting and pricing practices. The declines fueled a 29 percent loss for Sequoia Fund over the past year, leaving the once top-ranked mutual fund at the bottom of its peer group. Several long-time investors in the company, including hedge funds Brahman Capital and Viking Global Investors, exited the stock in the first quarter.
The Sequoia Fund, which was started in 1970 by a friend of Warren Buffett's, held 11.1 million Valeant shares as of March 31, according to a regulatory filing. Ruane Cunniff held 31.4 million shares, making it the largest shareholder, data compiled by Bloomberg show.
At the peak, Valeant represented more than 30 percent of assets after the stock had soared. The change limiting holdings to 20 percent was included in a regulatory filing that was amended as of May 18.
Before it's here, it's on the Bloomberg Terminal.
LEARN MORE