Russia Sanctions Said to Be Set for Renewal Amid Impasse
by and
EU links lifting punitive measures to stalled Minsk peace plan

Even if truce holds, Donbas conflict is looking more permanent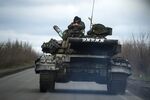 European Union nations are set to renew sanctions against Russia for six more months amid a stalemate in efforts to decisively end two years of fighting in eastern Ukraine between the army and Russian-backed rebels, six European officials said.
The decision to extend the punitive curbs reflects a continuing consensus among the 28 EU member states that their removal would require full implementation of the February 2015 Minsk peace accord, according to officials from four countries, including those who are less supportive of sanctions. They asked not to be named as the decision isn't yet final.
The move comes amid a deadlock over fulfilling the conditions of the Minsk agreement, including granting more autonomy to the breakaway regions. The four countries involved in the peace process -- Russia, Ukraine, Germany and France -- are discussing proposals to create demilitarized areas along the front lines and set up phone links between the two sides to prevent escalations, two people close to the talks said. With no end in sight, what many already call a frozen conflict is looking increasingly permanent.
"I told Vladimir Putin when I went to Moscow that we want to lift sanctions, even if progressively," French Foreign Minister Jean-Marc Ayrault told France 2 television on Friday. "But for that, things have to move, and so far things are not moving."
EU Unity
The trade and investment sanctions are set to lapse on July 31 and require a unanimous vote to be prolonged. EU foreign policy chief Federica Mogherini said talks among the member states on rolling them over will begin in the coming weeks. The bloc has "managed to build and keep our unity" on Russia, she told reporters in Brussels on Friday.
The EU, together with the U.S., imposed restrictions on Russia's access to international capital markets and energy technology that along with the oil-price collapse helped trigger the country's longest recession in two decades. The measures, a response to the Kremlin's annexation of Crimea from Ukraine and support for the insurgency, also provoked a Russian counter-ban on most European foodstuffs, causing billions of dollars of losses for exporters.
The June extension will delay a decision on a possible easing until December, just before a new U.S. administration takes office. There are no grounds for lifting sanctions any time soon, a French official said.
Building Bridges
Diplomats from Italy and other countries lukewarm on sanctions say they're still seeking an easing of the measures, though efforts to build bridges with Russia aren't challenging Germany's insistence that progress on the peace process is needed first. Italian Prime Minister Matteo Renzi will be a star guest at President Putin's annual showcase investment forum in his hometown of St. Petersburg next month.
Disagreement over how to hold local elections in the two breakaway regions in the predominantly Russian-speaking Donbas remains amid political gridlock that a government revamp last month failed to alleviate. Ukrainian President Petro Poroshenko is struggling to muster a simple majority to pass a law needed for the polls to take place, one of the European diplomats said.
Without a resolution, the division of Ukraine risks extending indefinitely and posing a long-term obstacle to relations between the EU and Russia, whose struggling economy would benefit from the removal of sanctions. More than 9,000 people have died during the conflict, according to the United Nations.
Before it's here, it's on the Bloomberg Terminal.
LEARN MORE