RBA's Edwards Tells WSJ Lower Inflation Range Would Be Premature
by
Bank's 2-3% target has in-built flexibility, board member says

Never been view goal must be achieved 'each and every quarter'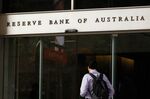 Cutting the Reserve Bank of Australia's inflation target would be "wildly premature" RBA board member John Edwards told the Wall Street Journal, after stubbornly weak prices spurred the central bank to cut interest rates this month.
While the 2 percent to 3 percent inflation target remained key to the RBA's policy making, there was built-in flexibility in how it should be interpreted, Edwards was cited as saying in an interview published by The Australian newspaper. The range should be viewed as a medium-term goal and has so far served the nation well, he said.
"It has never been the view that the target had to be achieved each and every quarter, or for that matter each and every couple of quarters, or year for that matter," Edwards was cited as saying. Australia's annual inflation rate has been below 2 percent since the third quarter of 2014.
The RBA's first rate cut in a year on May 3 came after data showed that some of the disinflationary pressures weighing upon economies from Japan to Europe are also being seen in Australia. The consumer price index dropped for the first time since 2008 in the first quarter, while annual core inflation growth slowed to the weakest on record, prompting the central bank to cut its inflation forecasts.
Some economists have argued that the inflation target should be lowered to reflect global and domestic forces that could keep downward pressure on prices for some time, the WSJ reported. The central bank will be forced to cut interest rates to 1.5 percent by August, according to most economists surveyed by Bloomberg.
Edwards also said that the Australian government's plan to balance the federal budget by around 2021 was too slow and the nation may be at risk of losing its AAA rating.
Edwards's term on the RBA board expires on July 30.
Before it's here, it's on the Bloomberg Terminal.
LEARN MORE