Pound Drops as BOE Officials Suggest Woes Run Deeper Than Brexit
By
Vlieghe sees more stimulus if there's no pick-up after EU vote

Forbes suggests slowdown not due just to the referendum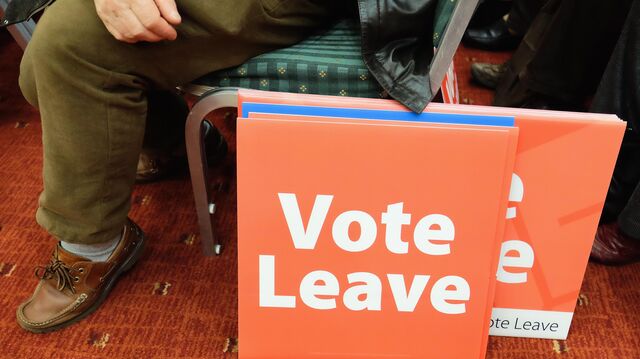 The pound declined for the first time in five days as Bank of England officials suggested that Britain's economic slowdown was due to more than just the risk of voters choosing to leave the European Union next month.
Sterling slid from a three-month high against the euro as policy maker Gertjan Vlieghe said a lack of improvement in the economic outlook immediately after the June 23 vote may dent his confidence that inflation can be moved back to target. Fellow policy maker Kristin Forbes said it wasn't definite that the softening in U.K. data was all referendum-related.

The moves cap a week during which the British currency declined versus only five of 150 currencies tracked by Bloomberg, as opinion polls and odds at betting companies supported speculation that the country will avoid a potentially damaging Brexit.
The pound has acted as a barometer of sentiment, sliding to a seven-year low versus the dollar about a week after the voting date was announced in February. It jumped earlier this week as a poll by the Evening Standard newspaper and Ipsos Mori put the "Remain" camp's lead at 18 percentage points over the group wanting to leave the world's biggest trading bloc.
'Bit of Nervousness'
"We are seeing sterling consolidating after very strong gains this week and maybe a bit of nervousness going into the weekend when we are likely to get more opinion polls that may or may not confirm the news we've had this week," said Adam Cole, head of global foreign-exchange strategy at Royal Bank of Canada in London.
The pound fell 0.6 percent to $1.4519 as of 4:42 p.m. London time. The 1.1 percent weekly gain was still the biggest since the period through April 29. Sterling weakened 0.7 percent to 77.21 pence per euro on Friday, cutting its appreciation this week to 2 percent.
"Following a vote to remain, I would like to see convincing evidence of an improvement in the economic outlook," Vlieghe said at the London Business School on Thursday. "If such improvement is not apparent soon, this will reduce my confidence that inflation is likely to return to the target within an acceptable time horizon without additional monetary stimulus." Forbes told the Belfast Telegraph that the Monetary Policy Committee doesn't have solid proof the cooling is all being caused by the vote next month.
Vlieghe's opinion "is probably not a consensus view on the Monetary Policy Committee more broadly," Cole said. "We are trading pretty much purely on exit risks and nothing much else at the moment, so my bias would be at these levels to be negative on sterling."