Italy Needs Oil Price Rise to Reduce Deflation Risk, Istat Says
Lorenzo Totaro
GDP, consumption can't raise Italian prices: statistics agency

'Concrete deflation' threat signaled by nation's central bank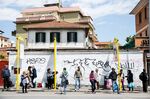 Italy's economic recovery this year may include a limited rise in employment and domestic consumption, but without a further increase in energy prices the risk of deflation won't go away, the country's statistics office said.
Recent trends in commodity markets prompt some "upside tensions in prices within the manufactured-good industry and services," Rome-based Istat said in its annual report published on Friday. Still, "in the first half of 2016 that creates a plausible scenario marked by periods of weak annual consumer price growth followed by episodes of deflation."
Investors' concern that the euro region faces deflation may be easing amid oil futures that traded in New York near a six-month high this week, and the European Central Bank's stimulus plan. That didn't stop policy makers, including Italy's central bank chief, from raising alerts on the potential impact of an extended deflationary period on private and public finances.
The current outlook justifies the ECB's stimulus, outweighing the burden of low rates for savers and the risk of inflated asset prices, Bank of Italy chief Ignazio Visco said in an interview with Handelsblatt published on Tuesday.

Last month consumer prices fell on a yearly basis 0.2 percent in the 19-nation euro area and 0.4 percent in Italy.
'Concrete' Risk
"I am more worried about deflation," said Visco, who is also a member of the European Central Bank's Governing Council. "That's the worst that could happen to us. Because with this come bankruptcies and very negative effects on the real economy. I believe that we still have a concrete deflation risk."
The share of products showing an annual decline in their prices resumed rising in Italy during the first quarter, Istat said in the report. That was mainly due to lower energy costs, but even among food and beverages the share of products with rising prices was only "slightly higher" than of those costing less than the year before, the statistics office also said.
Weaker prices may also limit nominal growth in Italy and hinder the commitment by Prime Minister Matteo Renzi's government to cut debt relative to gross domestic product. The ratio of debt to GDP last year rose to 132.7 percent, or 2.2 trillion euros ($2.5 trillion).
"The slow pace in the debt falling is basically due to the fact that there is no inflation," Finance Minister Pier Carlo Padoan said earlier this month. "That doesn't depend on us."
Italy's economic recovery from its longest recession since World War II has helped improve conditions on the labor market last year, Istat also said. Still, employment in 2015 remained well below the pre-crisis level, with only Greece in the euro region having more ground to recover than Italy, the report said.
Before it's here, it's on the Bloomberg Terminal.
LEARN MORE