India Shows Cook the Love It's Yet to Give the Pricey iPhone
by
Apple is vying to woo buyers in a cost-sensitive country

Company wants to sell pre-owned phones, introduce Apple Pay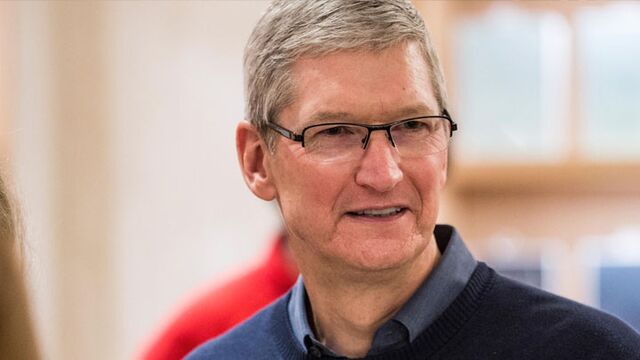 Tim Cook is getting the rock star treatment on his first trip to India.
Paparazzi have tailed him since he began the visit Wednesday in the financial capital Mumbai, keeping Cook's bodyguards busy as the Apple Inc. chief executive officer toured the city's most famous temple. 

"I'm here to learn," was all Cook said when ambushed by reporters who had waited hours in sweltering heat outside the Taj Mahal hotel in Mumbai.
He flew to Hyderabad on Thursday, opening a development center with a prominent politician, before jetting off to another city to watch a cricket match. Just about every step has has been reported, photographed and tweeted.
Cook attended a dinner in Mumbai hosted by Bollywood film star Shah Rukh Khan, spent time with Anant Ambani -- son of India's richest man Mukesh Ambani -- and met Tata Group Chairman Cyrus Mistry, whose sprawling conglomerate includes stores selling iPhones. He also met the top brass for Vodafone Group Plc in India.
Modi Meeting?
Cook was in New Delhi on Friday, and may meet Prime Minister Narendra Modi before he departs from India. The administration is currently reviewing Apple's application to open retail stores in Asia's third-largest economy.
As China's market becomes more saturated and people across the globe upgrade their smartphones less frequently, Apple, Samsung Electronics Co. and other vendors are keen to sell to India's middle class, which is projected to quadruple to 200 million by 2020. 
The challenge for Apple is that its products are beyond the reach of many in India, where most people live on less than $3.10 a day, according to World Bank data. 
In an interview with the local NDTV channel that aired Friday, Cook said Apple wants to lower the price of devices over time in India, sell pre-owned iPhones refurbished in the country and introduce Apple Pay.
Refurbished iPhones
A telecommunications ministry official said May 3 that India had rejected Apple's request to import and sell refurbished iPhones to the world's second largest mobile population.
India is a market where most phones are bought outright and aren't subsidized by carriers through calling plans. Apple doesn't feature in the top 10 in terms of smartphone market share in the South Asian nation, according to Bloomberg Intelligence analyst Simon Chan.
Cook in the television interview said Apple is planning a long presence in India.
"We are putting enormous energy here," he said. "We are not here for a quarter or two quarters or the next year or the next year, we are here for a 1,000 years."
Before it's here, it's on the Bloomberg Terminal.
LEARN MORE