G-7 Said to Plan Stronger Measures Against Terror Financing
by and
Practical steps to be agreed Saturday focus on four key areas

May form part of wider anti-terror pact at leaders summit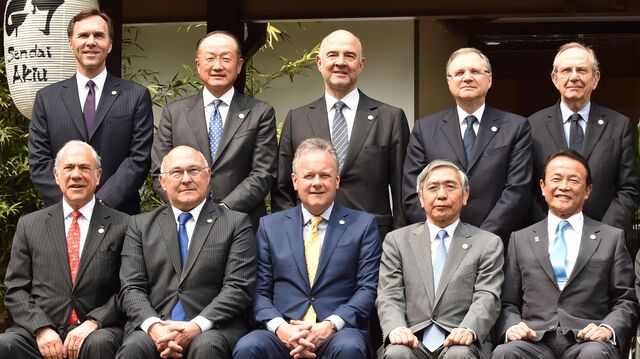 The world's major industrialized nations are set to agree on Saturday to adopt a series of practical measures to improve the international fight against terrorist financing.
U.K. Chancellor of the Exchequer George Osborne and French Finance Minister Michel Sapin are leading the push to agree on four key measures at the Group of Seven finance ministers meeting in Sendai, in northern Japan, according to an official at a G-7 member who declined to be named because the talks are private.
These include enhancing G-7 information exchange and cooperation, assessing appropriate changes to international standards on counter-terrorist finance, ensuring the best use of existing financial sanctions and reinforcing the work of the Financial Action Task Force, according to the official.
The agreement, backing up a similar push by the larger Group of 20, comes after the disappearance of an EgyptAir plane with 66 people on board sparked concern that a deliberate act may have knocked the plane from the sky. 
'Movements of Money'
"We have to be more efficient against big movements of money that go to finance these terrorist organizations in the territories they occupy," Sapin told Bloomberg in an interview."The organizations which are responsible for financial information need to be able to exchange information even more efficiently."
Smalls amounts of cash, often used to support terrorism inside Europe, will also be targeted, Sapin said. "These are often small sums which allow a terrorist act to be funded. And the key here is to fight against anonymous movements of money."
Global institutions including the G-7, G-20 and International Monetary Fund are stepping up their efforts to clamp down on terrorist financing after deadly attacks in France and elsewhere galvanized leaders to act. Banks around the world have been forced to ramp up scrutiny of transactions as regulators increase oversight and prosecute banks for dealing with terror groups or sanctioned nations.
Financial Centers
"The G-7 has been, and can be, very effective as its members directly control global financial centers and the financial system as a whole," said John Kirton, a professor and director of the University of Toronto's G-7 research group.
The measures will likely target tax havens and tax evasion as some of the channels used for money laundering and finance terrorist groups . "They will also act against newer forms such as trafficking in antiquities, human trafficking and perhaps also the drug trade," Kirton said.
France and the U.K. will work with other G-7 countries to consider how to implement the measures, which may then be considered as part of a wider set of commitments on terrorism at the leaders' summit on the Japanese island of Ise-Shima next week.
"All terrorist groups need funds therefore increased cooperation between nation states, including the exchange of intelligence relating to terrorist funding, can only be a positive step," said Nick O'Brien, associate professor for counter terrorism at Charles Sturt University in Canberra.
Authorities have been targeting groups such as the Islamic State, who analysts say have been smuggling the proceeds of oil sales across borders to fund their terror campaign in Iraq and Syria and to support a network of affiliates, said Rohan Gunaratna, who runs the International Center for Political Violence and Terrorism Research at Singapore's Nanyang Technological University.
"As finance is the life blood of terrorist groups, the focus on tracking the financial flows and creating the mechanisms for dismantling the financial infrastructure of both Islamic State and their associates is vital," he said.
Before it's here, it's on the Bloomberg Terminal.
LEARN MORE