Drug Lord 'El Chapo' Cleared for U.S. Extradition, Mexico Says
by and
Guzman to face homicide, drug charges in Texas, California

Extradition approval follows Guzman prison escape in 2015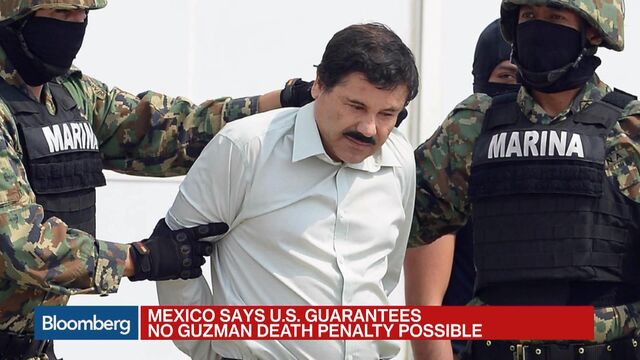 Mexico's government approved the extradition of alleged drug kingpin Joaquin "El Chapo" Guzman to the U.S. to face charges ranging from homicide to drug trafficking and money laundering.
The decision came in response to requests from Texas and California, two of the states where Guzman is charged. The U.S. has agreed that he wouldn't face the death penalty, which is prohibited under Mexican law, the Foreign Ministry said in an e-mailed statement Friday. Guzman's lawyers now have 30 days to appeal the decision, which one of them said he will do.
The alleged head of the Sinaloa cartel humiliated Mexican President Enrique Pena Nieto's government by escaping from a maximum-security prison last July. Guzman was recaptured in January after a six-month manhunt. Mexico this month transferred him to a prison in Chihuahua state, on the border with the U.S.
"Chapo Guzman's reign of terror as the world's largest and most significant drug lord will come to an end once he steps across the border," said Mike Vigil, a retired head of international operations for the U.S. Drug Enforcement Administration. "He will no longer have access to his criminal infrastructure. The cases in the United States against him are extremely strong."
Jose Refugio Rodriguez, one of Guzman's lawyers, told Milenio TV on Friday that his client will fight the extradition order and that the legal process could reach Mexico's Supreme Court and last one to three years, during which time he may remain in Mexico.
Policy Turnaround
The decision to extradite is a turnaround from the government's previous stance. In January 2015, then-Attorney General Jesus Murillo Karam told the Associated Press that he wouldn't accept El Chapo's extradition to the U.S. until after the drug boss had completed his sentence in Mexico, "300 or 400 years later."
Guzman, called "the world's most powerful drug trafficker" by the U.S. Treasury Department, was captured in February 2014, 13 years after he escaped from another maximum-security prison in a laundry cart. In last July's escape, he fled the maximum-security Altiplano prison in the State of Mexico through a mile-long, underground tunnel equipped with lighting, ventilation and a motorcycle on rails.
Guzman was recaptured in his stronghold of Sinaloa in January, and the Mexican government said that a meeting between actor Sean Penn and Guzman helped lead them to the fugitive. Guzman has been indicted in at least five U.S. cities for alleged crimes that helped him build a drug-trafficking empire and amass a personal fortune that Forbes magazine estimated to be $1 billion.
Drug War
More than 150,000 people have been killed in Mexico since the nation began its war on drug cartels in December 2006, and about 26,000 have gone missing, according to the United Nations. Analysts surveyed monthly by the central bank often rank poor security as the biggest obstacle to economic growth.
While it may take time for Guzman's lawyers to exhaust their appeals, the Mexican government has incentives to do everything in its power to expedite the process, said Alejandro Schtulmann, president and head of research at Mexico City-based political risk consulting firm EMPRA.
"You can have El Chapo in the best prison in Mexico, but as long as there's potential for infiltration and corruption, he can escape," Schtulmann said. "His presence in Mexico is a constant reminder of how he mocked authorities. He's a liability as long as he stays here."
Before it's here, it's on the Bloomberg Terminal.
LEARN MORE