China Bonds Decline for a Third Week Amid Leverage-Curb Concern
Bloomberg News
Traders with borrowed funds now unwinding positions, says bank

PBOC resumes cash injections after money rate advances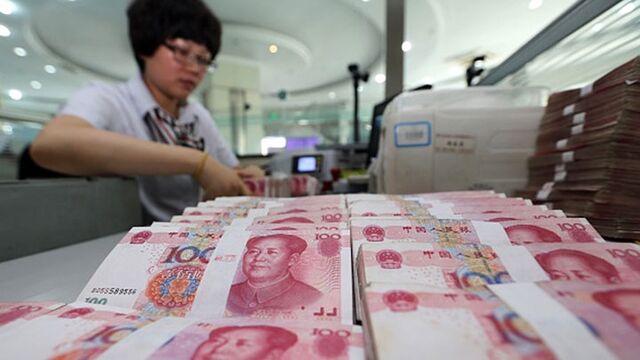 China's 10-year sovereign bonds posted a third weekly decline amid concern of a selloff as the government prepares to curb a practice where investors borrow funds to buy high-yielding debt.
Regulators are seeking feedback on three documents which restrict the leveraged trade of brokerages' asset-management units, analysts led by Qu Qing at Huachuang Securities Co. wrote in a note on Thursday. China should put deleveraging ahead of short-term growth and drop the "fantasy" of stimulating the economy through monetary easing, the People's Daily cited an unnamed "authoritative person" as saying last week.
The yield on notes due May 2026 rose four basis points this week, the most in six, to 2.95 percent in Shanghai on Friday. The benchmark yield climbed to 2.96 percent on Thursday, the highest since December. The cost of one-year interest-rate swaps, the fixed payment to receive the floating seven-day repurchase rate, climbed four basis points for the week and and fell one basis point on Friday to 2.59 percent, data compiled by Bloomberg show.
"The bond market is suffering as the deleverage concern is prompting traders who have borrowed heavily to finance their investments to unwind their positions," said Wei Taiyuan, an investment manager at China Merchants Bank Co. in Shanghai. "Meanwhile, discussions of a June rate hike in the U.S. are limiting the room for further easing measures in China."
Pulling Bets
After years of racking up profits by borrowing cheaply and plowing the proceeds into higher-yielding debt, investors are now rushing to unravel those wagers. The bets are getting squeezed from both sides as bond prices decline and borrowing costs rise in the market for repurchase agreements, used by traders to amplify their buying power.
The People's Bank of China injected a net 50 billion yuan ($7.6 billion) this week in open-market operations, after pulling a total of 620 billion yuan in the previous three weeks, data compiled by Bloomberg show. The monetary authority also granted 290 billion yuan to 21 financial institutions via its Medium-term Lending Facility on Monday.
The seven-day repurchase rate, a benchmark gauge of interbank funding availability, fell five basis points to 2.27 in Shanghai, according to a weighted average from the National Interbank Funding Center. The rate advanced to a one-week high of 2.33 percent on Wednesday.
— With assistance by Helen Sun
Before it's here, it's on the Bloomberg Terminal.
LEARN MORE