Alberta's Wildfires Couldn't Have Come at a Worse Time for the Local Economy
Economic green shoots have likely burned up.
by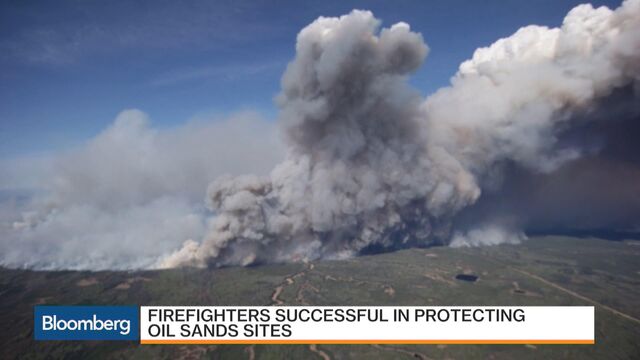 The wildfires raging in Alberta are destined to go down as the most expensive natural disaster in Canada's history, doing monumental damage to property and the environment in the process. These blazes may have also caused harm to the province's nascent economic green shoots .
A smattering of recently released data suggests that activity in the province was firming near the end of the first quarter as oil prices began to move above $40 per barrel (U.S.).
On Thursday, Statistics Canada reported that initial jobless claims for the province declined on an annual basis in March, the first such drop since October 2014.
Meanwhile, Alberta's manufacturing sector, which counts oil producers among its chief customers, had seen sales nosedive in the wake of the collapse in crude prices. However, factory sales have stabilized in recent months.
Though Canada's labor force survey is notoriously volatile, total employment in the province has also been largely flat since January:

Retail sales, however, point to persistent weakness in the Albertan economy. Consumer spending in the nation's oil-producing heartland has shown no sign of getting off the mat ahead of March's report, slated to be released on Friday morning.
"Many key Albertan data points are still falling on a year-over-year basis, including manufacturing sales and retail sales, but they are falling less sharply than in the fourth quarter of 2015," wrote Manulife Asset Management Senior Economist Frances Donald. "Those second derivative improvements are the green shoots of a stabilization in economic activity."
"There's no better example of the underlying firmness in the Canadian housing market than recent signs of stabilization in hard-hit Alberta, and in particular Calgary," added Bank of Montreal Senior Economist Sal Guatieri. "After plunging almost 30 percent last year, existing home sales in the city are now sliding at a slower 10 percent year-over-year rate, while the decline in benchmark prices has steadied at 3.5 percent in the past three months."
Economic activity in Alberta will be adversely affected by the inferno, both now and potentially in the months that follow. The ongoing blazes have reduced crude production by more than 1 million barrels per day, and continue to prevent a restart of operations at oil sands facilities in and around Fort McMurray.
There is, however, a literal rainbow on the horizon: forecasts for showers from Thursday through Sunday could help limit the scope of additional damage. Getting a clean read on the state of Alberta's economy, however, promises to take a much longer time.
"The fires will create major distortions in the economic data over the second quarter, if not longer," wrote Donald. "These data distortions will make it difficult to confirm conclusively whether the first quarter stabilization was indeed an improvement or only a temporarily pause in a longer-run economic decline."
Before it's here, it's on the Bloomberg Terminal.
LEARN MORE