'Let Me Assure You,' LendingClub's New Chief Tells Investors
By
Acting CEO Sanborn says performance of loans 'remains robust'

Stock plunged after Renaud Laplanche's surprise departure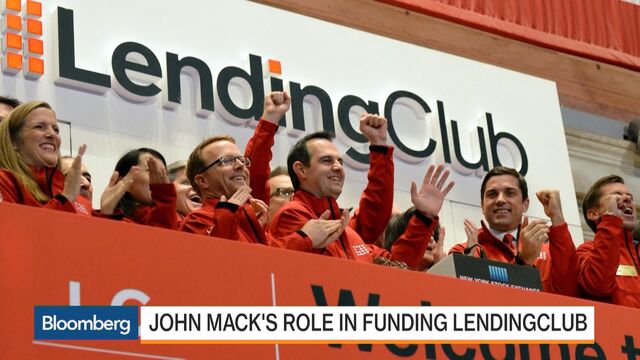 LendingClub Corp., the online marketplace lender that plunged almost 50 percent since the surprise resignation of its chief executive officer last week, said it's financially viable and continues to make and service loans.
"Let me assure you that we are in a strong financial position with a substantial amount of cash and securities on our balance sheet -- $868 million," Acting CEO Scott Sanborn wrote late Thursday in an e-mail to investors who buy the company's loans. "We plan to be around for many years to come."

LendingClub stunned shareholders May 9 by announcing Renaud Laplanche, 45, its founder and CEO, had resigned after internal reviews. The board cited two incidents: The firm's staff altered application dates on $3 million of loans before their sale, and Laplanche failed to disclose his interests in a fund that LendingClub was considering investing in.
"The performance of loans facilitated through the platform remains robust," Sanborn, 46, said in the e-mail. "We continue to service and process borrower payments just like we always have, and the interest and principal payments that borrowers make will continue to be passed on to you just as they were before."
The stock, which traded as high as $29.29 a week after its December 2014 initial public offering, plunged 48 percent since Laplanche's departure through the close of trading Thursday. The shares rebounded Friday, gaining 7.6 percent to $3.98 at 10:39 a.m. in New York.