The Star Trek Fan Film That Went Too Far
Paramount and CBS are suing the man behind a Kickstarter-funded Star Trek movie.
By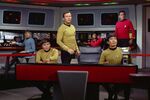 As Paramount Pictures prepares to celebrate Star Trek's 50th anniversary with the release of Star Trek Beyond in July, the studio has reason to thank the franchise's fans. Since almost the first Star Trek TV episode, Trekkies have fueled interest in creator Gene Roddenberry's science fiction fantasies, spawning their own works, holding conventions, and spurring the creation of 12 movies and five follow-up TV series. "They realize that their fans are their biggest assets," says Rebecca Tushnet, an intellectual-property expert at Georgetown University Law Center.
Now, the studio says, one fan has gone too far. Alec Peters has made a 20-minute Star Trek docudrama called Prelude to Axanar, recounting a confrontation between the Federation of Planets and the Klingon Empire. Created with $100,000 raised on Kickstarter, the video has generated more than 2 million YouTube views since Peters posted it in August 2014. Paramount Pictures and CBS, the owners of the Star Trek movie and TV franchise, have filed a copyright infringement lawsuit against Peters, saying he copied numerous elements from their properties.

The lawsuit, which on May 9 survived Peters's motion to dismiss, argues that the video infringes Paramount's and CBS's copyrights, "which, of course, we will continue to vigorously protect," the studio and CBS said in an e-mailed statement. They're asking the judge to rule that their work has been used without permission and to order Peters to stop the alleged infringement. The studio and network are seeking $150,000 in statutory damages for each copyrighted work they claim has been infringed. Peters says he's not using any main Star Trek characters; the studios, he responds, haven't shown that they've been harmed by his video.
The studios are taking a risk by going to court. "You don't want to go after your own fans, because it can create a backlash," says Rollin Ransom, an intellectual-property lawyer in Los Angeles. Some copyright holders, such as Lucasfilm, the Walt Disney unit behind the Star Wars movies, encourage fans by holding an annual contest for the best short-form fan videos. "These are the people who are watching, buying, and reading your products," says Steve Sansweet, former head of fan relations at Lucasfilm.
Inexpensive digital video equipment and easy-to-use editing tools have helped fuel the fan film genre. Video sites such as YouTube are filled with tributes to and parodies of TV shows, movies, and video games, including Game of Thrones, Doctor Who, Batman, and Call of Duty. Copyright holders were more aggressive in the early days of the Internet, according to Tushnet. Today, studios such as Paramount "rarely interfere with what fans do" online, she says.
Why sue Peters and not other fans? Paramount doesn't offer an explanation. Tushnet and Ransom say they know of no comparable suit filed by a studio over a fan film. They speculate that the professional nature of Peters's work and the money raised may have alarmed Paramount and CBS. "Previous Star Trek fan films have been self-funded," says Tushnet. "The concern for the studios would be that if this is going to be a big deal, they need to get out in front of it," says intellectual-property lawyer Aaron Moss, who has represented Japanese movie studio Toho over the unlicensed use of its best-known character, Godzilla.
Prelude to Axanar, which includes interviews with Starfleet commanders played by professional actors, is the precursor to a planned feature-length film for which Peters has raised $638,500 on Kickstarter. The movie will tell the story of Garth of Izar, a Starfleet captain who appeared in the original TV series as an inmate at an insane asylum and a hero of Captain Kirk's.
Peters, who was 6 when the TV series premiered in 1966, has had a lifelong fascination with Garth. "If Garth is Kirk's hero, I want to know who this guy is," he says. He and his lawyer, Erin Ranahan, say the works break new ground. "What we're doing is cutting-edge," Peters says.
The outcome of the suit will likely rest on whether Ranahan can convince the judge that Prelude to Axanar is transformative, adding new meaning to the original works. The case could ultimately provide guidelines for how to make the longer movie without running afoul of the studios, Ranahan says. For now, Peters's feature film is on hold until the lawsuit is resolved.
The bottom line: The writer-director of a Star Trek fan film captured Paramount's and CBS's attention after raising more than $600,000 on Kickstarter.
Before it's here, it's on the Bloomberg Terminal.
LEARN MORE