SoftBank Opens Pepper Robot to Android in Bid to Broaden Appeal
by and
Pepper will run applications from Google's Android platform

Masayoshi Son sought to position Pepper as an app platform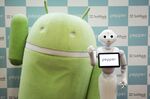 SoftBank Group Corp. is opening its Pepper robot to Android apps. That's a win for Google and a blow to Masayoshi Son's dream of having a platform of his own.
Developers will now be able to build Pepper apps using Android tools, SoftBank announced in Tokyo on Thursday. While this could significantly increase the robot's software lineup and help with sales, it also cedes a measure of control to Google, which owns the operating system and will now have the power to approve apps and take a cut of the revenues.
Billionaire Son, who has long professed his admiration for the late Steve Jobs, took a page from Apple Inc.'s playbook by positioning the $1,800 robot as an application platform. To that end, SoftBank has taken a loss on each of the roughly 10,000 units it sold since the launch almost a year ago. Attracting a critical mass of developers and users has proven difficult and Pepper now risks becoming just another smart device.
"Every operator wants to control the ecosystem, they don't want to pay royalties and want to keep the data," said Neil Shah, research director for devices and ecosystems at Counterpoint Technology Market Research in Mumbai. "But even Windows is struggling to attract developers to its mobile platform. So joining Android is a no-brainer for SoftBank."
Android software will power the tablet attached to Pepper's chest, running alongside SoftBank's proprietary Naoqi operating system which controls the robot's hardware. The Tokyo-based company said Android will help Pepper broaden its reach and eventually help generate revenue. It declined to comment on profit sharing and business arrangements with Google.
Son has said Pepper was inspired by his childhood experience watching the Japanese animation "Astro Boy." Featuring more than 20 motors and highly articulated arms, the 1.2 meter (4 foot) humanoid is capable of human-like body language. Its shoulders heave when in standby mode, imitating sleep. But it's not designed for menial tasks.
The SoftBank founder has bet the robot's friendly physical appearance would spur adoption and attract app developers. That runs counter to the trend of disembodied assistants that reside in a user's smartphone, like Apple's Siri and Google Now. Amazon.com Inc.'s Echo voice-activated home assistant is a cylinder about the size of a coffee tumbler.
"There was a lot of internal discussion on this topic and we decided on a challenge of creating a humanoid robot," Fumihide Tomizawa, chief executive officer of SoftBank Robotics, said at the briefing. "Robots come in all shapes and sizes and that's something we continue to debate."
Before it's here, it's on the Bloomberg Terminal.
LEARN MORE