Short Sellers' Dream Becomes Year-Long Nightmare on Hanergy Halt
by
Traders stuck in bearish bets after calling the stock's tumble

Lengthy trading halts in Hong Kong risk deterring investors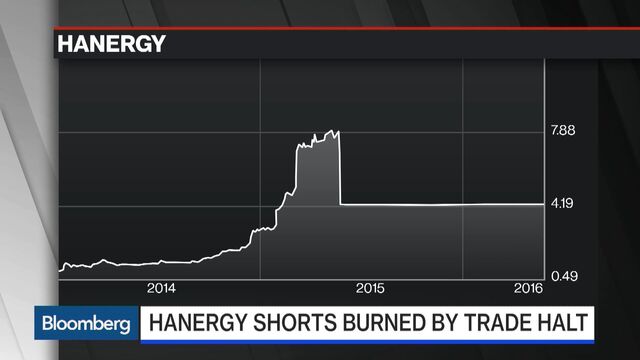 The downfall of Hanergy Thin Film Power Group Ltd., once the world's biggest solar company by market value, should have been a coup for short sellers in Hong Kong who predicted the stock would tumble.
Instead, it's turned into a year-long headache, highlighting regulatory shortfalls in a $3.7 trillion market where trading halts can leave investors in perpetual limbo.
Hanergy shares have been frozen since they tumbled 47 percent on May 20, 2015, ending a gravity-defying rally that had made the company six times more valuable than its closest peer. Trading can't resume without approval from Hong Kong's Securities & Futures Commission, under a rule that allows the market regulator to halt shares when there's evidence of misleading, false or incomplete information. That's left short sellers unable to reap their profits by buying back shares on the city's bourse and returning them to the original holders.

While some traders have found ways to unwind the bets through off-exchange transactions, Hanergy still has about 0.7 percent of its outstanding shares tied up in short sales, according to data compiled by Markit Ltd. The episode underscores concerns that Hong Kong's lengthy trading halts will deter short sellers -- who help make markets more efficient by identifying overvalued companies -- and drive away long-only investors who fear getting stuck in their positions. In the U.S., trading halts must end within 10 days.
"Suspending the stock is a punishment for investors," said Alex Au, managing director of Alphalex Capital Management. "You're hindering the liquidity of the market. It's bad for both long and short."
Widespread Halts
Hanergy is one of at least 43 companies, including Kaisa Group Holdings Ltd. and Real Gold Mining Ltd., that have been suspended from Hong Kong trading for at least a year. Short sales in Kaisa and Real Gold were both above historical averages before their suspensions in March 2015 and May 2011, respectively, and both still have outstanding shorts, according to Markit data.
One way for bears to exit the trades would be to track down someone who owns shares and wants to sell, such as an index-tracking fund. Both sides would have to negotiate a price in what's known as an over-the-counter transaction, a difficult task given there's no longer an active market to use as a reference. Hanergy last traded on the Hong Kong exchange at HK$3.91, while regulatory filings in December show Chairman Li Hejun agreed to sell shares at an average price equivalent to 21.5 Hong Kong cents.
Because about two-thirds of Hanergy's outstanding shares are held by entities tied to its unlisted parent, digging up a willing seller could prove especially difficult. Short sellers who can't find a counterparty might be forced to keep paying borrowing fees to investors who lent them shares.
For traders who bet against an estimated 3.2 percent of Hanergy's outstanding shares at the time of the suspension last year, the halt has complicated what looked like a great short opportunity. The stock's 249 percent surge over the preceding 12 months had swelled its valuation to 15 times net assets, about 10 times more expensive than Hong Kong's benchmark Hang Seng Index, while the firm's reliance on its Chinese parent for more than 60 percent of sales was another red flag. Analysts also had questions over the viability of its solar technology.
"All the instincts of short sellers told them to short this name," said Simon Colvin, a London-based analyst at Markit.
Exchange Review
Hanergy has been communicating with Hong Kong's securities regulator, though the firm hasn't been told when the investigation will be concluded or when the shares can resume trading, Hanergy's parent said in an e-mail. The company, which reported a 71 percent tumble in revenue last year, is pressing ahead with efforts to sell solar power systems for residential use through a dealership model, the parent said. Hanergy is scheduled to hold an annual shareholder meeting in Beijing on Friday.
Hong Kong's exchange said in February that it will review prolonged trading suspensions in response to investor concerns. The Pan Asia Securities Lending Association, whose members include Goldman Sachs (Asia) LLC and Deutsche Bank AG, is preparing a paper on best practices for handling fees on borrowed shares when trading is suspended, said Paul Solway, the group's communications officer. The SFC declined to comment.
One risk for Hong Kong's stock market is that investors will demand a valuation discount to compensate them for the chance of having capital tied up in lengthy halts. The city's shares are already priced at some of the lowest levels worldwide, with the Hang Seng Index fetching just 1.03 times net assets, versus 1.97 for the MSCI All-Country World Index. The Hong Kong gauge rose 1.2 percent at 11:30 a.m. local time on Friday.
"This is a great responsibility of the regulator, to move quite quickly on these things," said Niklas Hageback, who helps oversee about $175 million at Valkyria Kapital Ltd. in Hong Kong. "Dragging on for a year is not acceptable if it wants to be perceived as a market comparable to New York and London."
Before it's here, it's on the Bloomberg Terminal.
LEARN MORE