QuickTake Q&A: EgyptAir Crash Deepens Woes at Troubled Airline
by and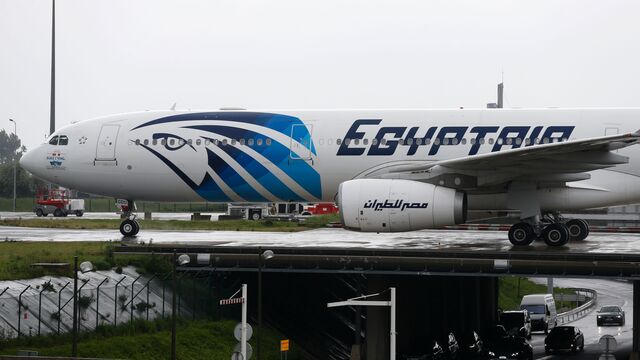 An EgyptAir Airbus A320 with 66 people on board traveling overnight from Paris to Cairo disappeared from radar while off the Egyptian coast. Searchers report spotting debris in the Mediterranean Sea. The plane's sudden movements, and lack of a distress signal, raise the possibility of a terrorist act.
1. What is EgyptAir?
The oldest airline in the Middle East, Egypt's state-owned flagship was founded in 1932. Based at Cairo International Airport, it operates a fleet of 81 aircraft and serves more than 65 destinations in Africa, the Middle East, Europe, the Far East and the U.S. It was known as United Arab Airlines until 1971, when it split from Syrian Airlines. It joined the largest airline grouping, Star Alliance, in July 2008. It's part of EgyptAir Holding Co., which also includes cargo, maintenance and ground-handling services.
2. Hasn't EgyptAir been in the news a lot?
In March, an Egyptian national claiming he was wearing an explosive belt forced an EgyptAir jet to land in Cyprus, where he surrendered. The explosives turned out to be fake, and the hijacker's motivation was to see his former wife and children. In January, Reuters, citing unnamed sources, reported that an EgyptAir mechanic whose cousin joined Islamic State in Syria was suspected of planting a bomb that brought down a Russian Metrojet Airbus A321-200 over Egypt's Sinai last October.
3. What about previous crashes?
In 2002, an EgyptAir Boeing 737 arriving in Tunisia from Cairo crashed into a hill near the Tunis airport, killing 18 of the 62 people on board. In 1999, an EgyptAir Boeing 767 plunged into the Atlantic Ocean shortly after takeoff from John F. Kennedy Airport in New York, killing all 217 passengers and crew. U.S. investigators concluded that the plane's relief co-pilot, while alone in the cockpit, deliberately changed settings to start the plane's descent.
4. How did Egypt's revolution affect the airline?
EgyptAir incurred losses of about $1 billion following the 2011 overthrow of Hosni Mubarak. The resulting drop in tourism hurt the airline, and pilots have been displeased with their wages. Its goal for fiscal 2016 is to break even.
The Reference Shelf
Editor: Benedikt Kammel.
Before it's here, it's on the Bloomberg Terminal.
LEARN MORE