President Trump or Clinton Won't Affect U.S. Economy, Dinan Says
by
York Capital founder has been a Clinton donor and backer

Fed June rate hike also won't upset U.S. economy, Dinan says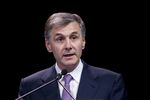 The U.S. economy and American businesses are strong enough to weather the election of either Donald Trump or Hillary Clinton as president, according to James Dinan, founder of hedge fund York Capital Management and a Clinton donor.
If either Clinton or Trump becomes president, "it's really not going to affect our economy and affect our businesses," Dinan, whose New York-based firm manages $19.3 billion, said on Fox Business Network's Wall Street Week, which is scheduled to air Friday. "I actually think the U.S. economy is stronger than a lot of people are willing to admit."
While more people on Wall Street have come out in favor of Clinton than Trump, Dinan represents a growing view that neither of the leading candidates will menace the U.S. financial industry. Anthony Scaramucci, who founded investment firm Skybridge Capital and interviewed Dinan, is part of Trump's finance committee. Both Trump and Clinton, as well as Clinton's Democratic rival, Vermont Senator Bernie Sanders, have criticized Wall Street culture and its high pay.
Dinan told Fox he agreed with Warren Buffett, who endorsed Clinton in December, and last month said that his firm, Berkshire Hathaway Inc., "will continue to do fine" if either Trump or Clinton is elected to the White House.
Dinan has contributed about $306,000 to federal candidates and committees since 2000, with the bulk of that -- $288,000 -- going to Democrats. He's given the maximum $2,700 contribution to Hillary Clinton's 2016 presidential primary campaign. In 2000, Dinan made one of his few contributions to Republicans, giving $1,000 to Rick Lazio, Clinton's opponent in her first bid for public office.
Dinan, whose firm's money-losing 2015 performance dropped him off Institutional Investor's list of the 25 highest paid hedge fund managers, said he thinks the hedge fund industry is going through a cyclical down draft rather than a longer-term crisis.
"I am bullish on the fact that the industry still has the talent," he said. "I think this has been a very difficult period. It is going to create a washout, which will be beneficial for the survivors."
Before it's here, it's on the Bloomberg Terminal.
LEARN MORE