Philippine Legislators End $81 Million Cyber-Heist Investigation
by
Blue Ribbon Committee may issue report next week: senator

Monetary authorities readying penalties, policy proposals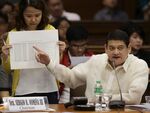 Philippine lawmakers ended a two-month investigation into the disappearance of $81 million stolen from the Bangladeshi central bank through the Southeast Asian country's casinos and banking system.
The Senate Blue Ribbon Committee may issue a report detailing legislative recommendations next week, Senator Teofisto Guingona said after the last of seven hearings was held in Manila on Thursday. Central bank officials said they have also finished their own probe, and the Monetary Board will issue a full report soon.
The Philippine financial industry and its casinos are in the spotlight for one of the largest bank heists in modern history, where thieves hacked into Bangladesh Bank's account at the U.S. Federal Reserve and routed the funds to accounts at Rizal Commercial Banking Corp. The money was then wired by a local remittance company into local gaming halls, where the money trail has gone cold.
About $15 million of the funds stolen in the heist three months ago has been recovered, all from casino junket operator Kim Wong. Wong denies wrongdoing and claims to have received the money from two Chinese nationals allegedly linked to the cyber heist.
Maia Santos Deguito, the manager of the Rizal bank branch that transmitted the cash to the casinos, has been fired. The company's President Lorenzo Tan quit two weeks ago to take "moral responsibility" for the lender's involvement in the heist, even after an internal investigation by the bank cleared him of any wrongdoing. Deguito has denied any wrongdoing in her testimony at past Senate hearings.
The central bank's report from its probe into the money laundering will detail policy proposals and penalty recommendations, Bangko Sentral ng Pilipinas Deputy Governor Nestor Espenilla told reporters after Thursday's hearing.
Before it's here, it's on the Bloomberg Terminal.
LEARN MORE