Spend
A Photograph Where Jackie O., Marilyn, and Warhol Meet
A half-million-dollar collage by Peter Beard will soon hit the auction block at Christie's.
By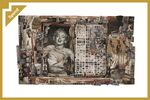 When Peter Beard includes famous people in his art, chances are he actually knew them. That's certainly true in Heart Attack City, 1972/1998, which goes to auction at Christie's in London on May 20 with an estimate of $433,800 to $578,000.
The collage, which he created in 1998, contains images—many of which Beard took himself—of Jackie Kennedy (a close friend), Andy Warhol (they collaborated on artworks together), Truman Capote (a frequent guest at Beard's Montauk estate), Mick Jagger (Beard went on tour with the Rolling Stones), and, of course, Marilyn Monroe, possibly the only star in the assemblage with whom Beard wasn't on cozily intimate terms.
Beard, who was born in 1938, spent a lifetime flitting between parties with the jet set and the remote African bush. Born as the heir to a railroad fortune, he traveled at 17 to Africa and was hooked; his first book, The End of Game: The Last Word From Paradise, documented the massacre of 35,000 elephants and rocketed him to fame. Already part of a celebrity milieu, Beard had suddenly become a respected photojournalist and fine artist.
As he continued to document African flora and fauna, he also engaged in lighter pursuits. He "discovered" the model Iman (the future Mrs. David Bowie), was painted by Francis Bacon, vacationed with Jackie Kennedy and Aristotle Onassis on his yacht, and starred in a movie.
Given Beard's frenetic life, it's no wonder his collages are so jam-packed, and given the glamour and beauty in his life, it's also unsurprising that his art is so sought-after. Heart Attack City is the most expensive lot in Christie's entire photography sale; another work by Beard is at the top of Phillip's London photography auction on May 19th. All told, in the two days of London photography auctions, Christie's, Sotheby's, and Phillips are offering 15 works by Beard. If each sells for its high estimate, the hammer price will be $1,127,850. That's presumably good news for the still-working Beard and even better news for anyone with the desire and dollars to buy a small piece of his exotic world.
Before it's here, it's on the Bloomberg Terminal.
LEARN MORE