Netanyahu, Liberman Negotiators Aim to Sew Up Coalition Pact
by
Expanding coalition would smooth effort to pass 2-year budget

Likud's Begin says giving Liberman defense post 'delusional'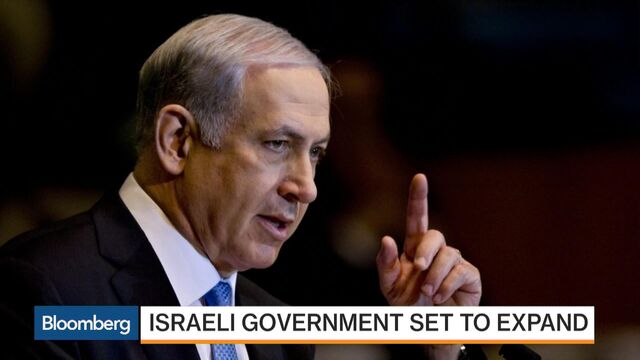 Negotiators for Prime Minister Benjamin Netanyahu and former Foreign Minister Avigdor Liberman held intensive talks with the goal of reaching a deal Thursday to expand Israel's narrow coalition government, two people familiar with the contacts said.
With Liberman's likely appointment as defense minister generating criticism both within Netanyahu's Likud party and the opposition, he and the prime minister want to sew up the agreement so he can be sworn in next week, according to the people, who spoke on condition of anonymity because of the delicate political contacts.
The surprise announcement on Wednesday that the government was opening coalition negotiations with Liberman held out the prospect of stabilizing an alliance hobbled over the past year by a one-seat majority in parliament and facing crucial talks on a two-year budget. At the same time, it threatened to further damage Israel's standing on the international stage. Famous for assailing the Palestinians, calling for the reoccupation of the Gaza Strip and confronting Israel's foreign critics, Liberman has been a polarizing figure in Israeli politics, at times alienating Israel's allies.
Too Soft
Liberman, a West Bank settler, has allied and broken with Netanyahu multiple times over the past two decades, and has been harshly critical of the government's policies, calling it too soft on Israel's enemies. The current government, a mix of right-wing and religious parties, currently holds 61 seats in the legislature, and the addition of Liberman's Yisrael Beitenu party would give it 66. One of the party's lawmakers, Orly Levy-Abekasis, said on Facebook that she'll leave Yisrael Beitenu to protest joining the coalition, though she'll remain in parliament as an independent.
The idea of Liberman replacing Defense Minister Moshe Ya'alon was described as "delusional" by Benny Begin, a Likud member of parliament. In an interview with Channel 2 television on Wednesday, he said it displays "a lack of responsibility toward the defense establishment and the citizens of Israel." The Palestinian Authority's Foreign Ministry denounced the emerging appointment of the "extremist" Liberman to the defense ministry as proof that Israel is no partner for peacemaking, Israel's Ynet website reported.
'Talks Tough'
Yet while the Moldova-born former bar bouncer is famous for bellicose statements that also include baiting Arab lawmakers as traitors, he has in the past supported negotiations with the Palestinians and said he would leave his home in the Nokdim settlement for a dependable peace treaty.
"He talks tough so he scares people, but he's also shown a fair level of flexibility and pragmatism," Abraham Diskin, a Hebrew University political scientist, said in a phone interview. "The only consistent behavior I can connect with Liberman is his unpredictability and his pursuit of power. Ultimately he wants to be prime minister."
The offer to Liberman brought an abrupt end to negotiations Netanyahu was conducting with opposition leader Isaac Herzog, chairman of the center-left Labor Party, to broaden the coalition. Herzog, assailed by party rivals as a lapdog for negotiating with Netanyahu, said part of the reason he sought to join the Likud-led coalition was signals that Arab countries were willing to negotiate a broad regional peace pact with him as foreign minister.
Before Netanyahu broke off those contacts, Egyptian President Abdel-Fattah El-Sisi said in a May 17 speech that he saw a "great chance for a better future" if Israel's rival parties united to negotiate peace with the Palestinians.
It's possible Netanyahu "manipulated me, but I had a responsibility to explore the option, even if it meant my paying the worst political price" of a chance to resolve the Arab-Israeli conflict, Herzog said in an interview with Channel 2 television.
Before it's here, it's on the Bloomberg Terminal.
LEARN MORE