Negative Rates Scorned by Japan's Megabanks as Charts Turn Ugly
by and
Loan growth slows, margins narrow, bad debts rise, costs swell

Bank stocks are worst Topix performers as profit seen dropping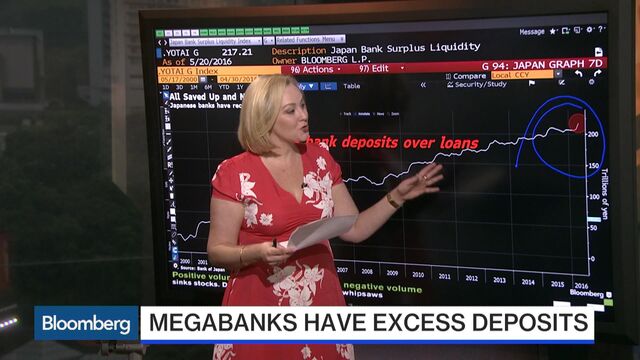 Negative interest rates are adding to an ugly set of metrics for Japan's three largest lenders, with loan growth slowing, credit margins narrowing, bad debts rising and costs creeping higher.
In the three months since the Bank of Japan sent shockwaves through the financial system by charging fees on some reserves, shares of the so-called megabanks have plunged as they forecast their lowest combined profit in five years. Mitsubishi UFJ Financial Group Inc. President Nobuyuki Hirano said in a speech in Tokyo last month that rates below zero have worsened anxiety among its customers and may weaken financial institutions.
Banks are the worst-performing industry group on the Topix stock index this year, tumbling 28 percent amid speculation BOJ will drag rates further below zero in an effort to revive credit and investment. The Topix Banks Index closed 0.5 percent higher Friday in Tokyo. MUFG, Sumitomo Mitsui Financial Group Inc. and Mizuho Financial Group Inc. this month forecast net income will fall 5.2 percent to 2.15 trillion yen ($19.5 billion) in the year started April 1.
"The severe environment for Japanese banks at home and abroad will continue this year," said Toyoki Sameshima, a Tokyo-based senior analyst at BNP Paribas SA. "Negative rates will put pressure on domestic earnings.''
The following charts show how deposits are exceeding loans at Japanese banks now charged for parking cash at the BOJ. They also reflect how sub-zero rates erode margins amid rising bad-loan provisions and administrative costs.
CHART 1: Bank deposits exceeded loans by a record 217.2 trillion yen in April -- equivalent to the annual economic output of India -- suggesting Japan's problem is a lack of demand for credit rather than a reluctance to supply it.

CHART 2: Even before negative rates, it was getting harder for banks to make money from lending after years of monetary easing shrank net interest margins. Following the central bank's Jan. 29 bombshell, average rates on new loans plunged to a record-low 0.793 percent, while lenders cut deposit rates to 0.001 percent, about as low as they can go without charging savers, something they are very reluctant to do for fear of losing customers.

CHART 3: Bad-loan costs are rising once again, particularly at MUFG, as credit extended to the energy industry shows signs of souring. With profitability from domestic lending shrinking, the three banks expanded loans overseas in recent years, increasing their exposure to worldwide economic and financial trends including the recent rout in commodity prices.

CHART 4: The wave of cost-cutting at financial firms worldwide has yet to reach Japan's biggest banks. General and administrative expenses rose in each of the past three years as the lenders invested in areas such as computer systems and compliance with new global regulations. They have also been hiring staff, particularly in the securities business, to increase revenue.

CHART 5: Not everything is negative for the banks. Since pledging to sell stakes in client companies in line with Prime Minister Shinzo Abe's new corporate governance code, they have been profiting by selling shares in an equity market that rose on the back of Abenomics. Despite falling 12 percent to 16,736 this year, the Nikkei 225 Stock Average would need to drop below 9,000 before gains on Sumitomo Mitsui's share sales are erased, the company has estimated.

Before it's here, it's on the Bloomberg Terminal.
LEARN MORE