Modi Boosted as Gandhi Slide Continues in India State Polls
by
Modi's BJP set to end Congress's 15-year rule in Assam

Regional power brokers retain power in Tamil Nadu, W. Bengal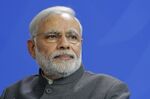 Prime Minister Narendra Modi's main national opponents lost control of two Indian states on Thursday, diluting their ability to thwart legislation that's key to his reform agenda.
The once-mighty Congress party lost to Modi's Bharatiya Janata Party in Assam, ending its 15-year rule in the northeastern state. The Gandhi dynasty's political organization also dropped the southern state of Kerala and was only ahead in Puducherry, a former French colony that has a quarter-million people -- some 40 times less than Delhi, the capital.
The results in five states accounting for a fifth of India's population were as good as Modi could hope for: His party only had a real shot of winning in Assam, reflecting its struggles to expand outside of Hindi-speaking areas. Two non-aligned regional power brokers -- Mamata Banerjee in West Bengal and J. Jayalalithaa in Tamil Nadu -- were both poised to hold onto power.

Still, the Congress party's losses are good for Modi: They will reduce its ability to block his reform measures in the upper house of parliament, where members are determined by state election results. While the body's composition won't change immediately because current members need to serve out fixed terms, the long-term trend favors Modi.
After Thursday's results, Congress will control outright just six of India's 29 states, down from 15 in 2013. Modi's party would hold power in 10 states, with regional parties and unwieldy coalitions leading the rest.
'Losing its Relevance'
Congress is "losing its relevance" with the losses in Assam and Kerala, said U.R. Bhat, director at Dalton Capital Advisors India Pvt., a unit of U.K.-based Dalton Strategic Partnership LLP. Modi's party has a good working relationship with regional leaders and will seek to woo them to isolate Congress to pass the goods-and-services tax and other reforms.
West Bengal's Banerjee -- whose party has won or is leading in 215 of 294 seats -- is one of the regional leaders with a swing vote on economic reforms. On Thursday she reiterated support for Modi's goods-and-services tax even though her party, which is backed by one of India's largest Muslim populations, has accused Modi's Hindu nationalist BJP of policies that stoke social strife.
"We have differences in ideology with BJP which is why we cannot be with them," Banerjee said at a briefing in Kolkata. "We will support GST and anything that benefits people."
Gandhi Humbled
For more than a year, the upper house -- known as the Rajya Sabha -- has blocked passage of a national sales tax, which aims to unify more than a dozen levies that hinder trade across state lines. Modi has been more successful with other measures, including an overhaul of bankruptcy laws that passed this month.
Modi's Bharatiya Janata Party was ahead in 64 of 126 assembly seats in the small northeastern state of Assam, according to the Election Commission of India. The majority would be the BJP's first-ever victory in the region.
The Congress party has run India for about 80 percent of the time since independence in 1947. It's now led by Sonia Gandhi and her son Rahul Gandhi, the son, grandson and great grandson of Indian prime ministers.
"We accept the verdict of people with humility," Gandhi said on Twitter on Thursday. "We will work harder till we win the confidence & trust of people."
Positive Sentiment
The election results impacted the share prices of two Chennai-based television stations. Sun TV Network Ltd., which is linked to the party losing in Tamil Nadu, fell 11 percent in its biggest tumble since August. By contrast, Raj Television Network Ltd. surged 21 percent, the most on record, on speculation that it would benefit from more market share.
The broader Sensex Index fell 1.2 percent as stocks around the globe dropped on concern that the Federal Reserve would raise interest rates in June.
"The regional parties are the key parties in these elections," Jagannadham Thunuguntla, head of fundamental research at Karvy Stock Broking Ltd., said by phone from Hyderabad. "The BJP winning in Assam is positive from a sentiment point of view for the markets, but not from a numbers point of view in the Rajya Sabha."
Before it's here, it's on the Bloomberg Terminal.
LEARN MORE