How the Second-Richest Arab Nation Is Reacting to Oil Shock
By , , and
Kuwait is bolstering capital spending while cutting waste

Kuwait hires Oliver Wyman to advise on debt strategy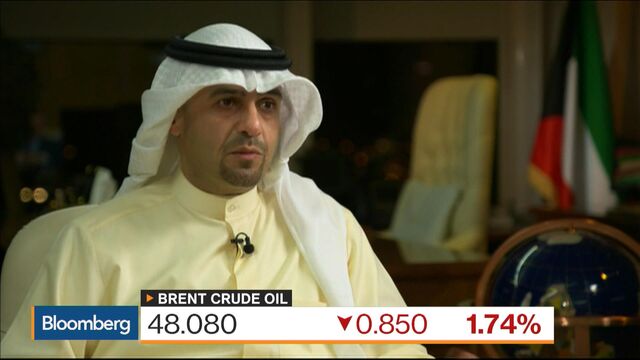 The man in charge of helping Kuwait navigate the global oil-price shock said the Middle East's second-richest nation is responding to the crisis by "spending as much as possible" to bolster economic growth.
Anas Al-Saleh, Kuwait's deputy premier, said that the government isn't canceling any projects. At the same time, authorities are cutting wasteful spending to plug a budget deficit that could exceed 13 percent of gross domestic product in 2016, according to International Monetary Fund estimates.
Al-Saleh, the minister of finance and the country's acting oil chief, is pushing a plan to reduce Kuwait's reliance on oil, a challenge shared by major crude exporters from Saudi Arabia to Nigeria. The measures include reducing utility subsidies, introducing corporate taxes, merging state entities to downsize the government and tapping local and international debt markets.
"We are determined to go forward and spend as much as possible on our economy and infrastructure ," Al-Saleh said in an interview with Bloomberg Television at his office in the oil ministry on Wednesday. Reducing the budget shortfall is also a priority, he said.
Sovereign Wealth
Kuwait has enough financial firepower to respond gradually to the plunge in global crude prices, Al-Saleh said.
Its sovereign wealth fund is the world's fifth-largest with $592 billion in assets under management, according to data compiled by the Sovereign Wealth Fund Institute. Kuwait's gross domestic product, adjusted for exchange rates, was more than $70,000 per head in 2015 -- making it the world's sixth-richest nation and second only to Qatar in the Arab world, according to IMF estimates.

The oil decline "has clearly shown the structural issues in our economy," said the minister, who is also the wealth fund's chairman. "But, and this is the good side, with our robust budget, having low debt, strong local and international reserves, it helps us making reform quite steadily" without "reacting aggressively" with steep spending cuts, he said.
But a combination of Kuwait's wealth and political squabbling has stymied past reform efforts. Parliament has resisted previous government plans to boost investments and curtail spending. In 2013, lawmakers sought to write off interest payments on bank loans taken by nationals over five years to bail out indebted citizens.
Bond Sales
Al-Saleh said key elements of the government's current plan don't need parliamentary approval.
OPEC Strategy Working as Kuwait Sees Oil Rising to $50
World's Oldest Wealth Fund Eyes Global Infrastructure Deals
Steps taken so far include starting a domestic bond-sale program, and the government is planning to tap global debt markets to help finance the deficit and avoid drying up domestic liquidity. It has also sought technical advice from the IMF and hired consulting firm Oliver Wyman & Co. to advise on a debt strategy.
"You have to finance the deficit one way or another," Al-Saleh said. "We see a great appetite" for Kuwaiti assets from both domestic and international investors, he said.
Al-Saleh also cited examples of streamlining state entities to reduce red tape, including plans to merge port and customs authorities.
Saudi Plans
Other Gulf Arab monarchies have also sprung into action. Saudi Arabia, the world's biggest oil exporter, cut spending and raise fuel and utility prices. Deputy Crown Prince Mohammed bin Salman also plans to transfer its ownership of state-oil company Saudi Aramco to the Public Investment Fund and sell a stake of not more than 5 percent to the public. The move will transform the PIF, as the fund is known, into the world's largest sovereign investment company with assets of more than $2 trillion.
Al-Saleh said Kuwait's Investment Authority, which describes itself as the world's oldest sovereign wealth fund, is targeting global infrastructure projects after taking part in a consortium that bought the London City Airport this year.
He also said the government has dipped into KIA's "general reserve fund" to finance the budget shortfall, but has maintained its policy of adding 10 percent of revenue to its so-called Future Generations Fund.
"We're injecting and we're taking out of it to finance our budget," Al-Saleh said.