Hotel Lotte's $4.8 Billion IPO Is Big But Comes With Baggage
by
IPO may be Korea's largest, surpassing Samsung Life's offering

Sale comes in wake of power struggle atop Lotte Group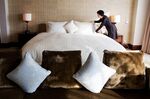 Lotte Group's initial public offering of its hotel unit, which may fetch a record 5.7 trillion won ($4.8 billion), will test investors' willingness to bet on a dynasty that's rekindled concerns about corporate governance at the nation's family-run conglomerates.
Hotel Lotte Co., the lodgings and duty-free-sales unit of the retail giant, plans an offering of 47.9 million shares for as much as 120,000 won apiece, according to a regulatory filing on Thursday. That would value the company as much as 16.4 trillion won.
While investors would be buying shares in a company whose chain of hotels, amusement parks and duty-free shops generated more than 5.1 trillion won in revenue last year, they'd also be investing into a business empire in turmoil. Hotel Lotte is a key unit of the group headed by Chairman Shin Dong Bin, who ousted his older brother and sidelined their patriarch father amid a public family feud that's gripped Korea since last year.
"This power struggle between the brothers is bound to flare up again, particularly after the father passes away," said Chung Sun Sup, CEO of Chaebul.com, which researches Korea's family-run conglomerates. "Given all this uncertainty, the stock probably won't fetch a price that a global competitor would and it's hard to be optimistic about the stock's outlook after its listing."

Discounts on the stock may already apply. Even at the high end of the price range, Hotel Lotte would be valued at about 60 percent above its book value, versus a multiple of about four for cross-town rival Hotel Shilla Co. When compared globally, Starwood Hotels & Resorts Worldwide Inc. trades at about nine times book value, while InterContinental Hotels Group Plc trades at a multiple of about 30.
Big Deal
Still, this is a big deal. A value of 16.4 trillion won would be enough to make Hotel Lotte one of the 20 largest companies in Korea by that measure. The amount raised by the IPO -- arranged by Mirae Asset Daewoo Co., Citigroup Inc. and Bank of America Merrill Lynch -- could also exceed the record 4.9 trillion won raised in Samsung Life Insurance Co.'s sale in 2010 and trump any other IPO completed so far this year.
Businesswise, the company is the largest hotel group in Korea, runs the world's third-largest operator of duty-free shops and operates the Lotte World amusement parks that compete with Samsung Group's Everland.
Lotte's Feud
Beyond its operations, Hotel Lotte owns stakes in scores of affiliates, including shares in Lotte Chemical Corp. and Lotte Shopping Co., making it a key unit that allows the group to control a collection of 89 companies in Korea alone. The company booked the value of those investments at 7.1 trillion won as of March.
Then there's the feud, which erupted into public view last summer when Shin Dong Bin's older brother, Shin Dong Joo, tried to have his younger sibling fired with help from their nonagenarian father. The plan backfired as the patriarch, who founded the group and was then chairman, got sidelined to an honorary position and the eldest son was stripped of group positions. The older brother has since attempted multiple challenges to Shin Dong Bin's authority, including lawsuits and smear campaigns against the current chairman, to little avail.
Japan Angle
The case not only gained national attention because disputes between family members at corporate dynasties -- known locally as the chaebol -- are rarely displayed in public but because it dredged up deep-running anti-Japanese sentiment in Korea.
Though Lotte Group generates the bulk of its business in Korea, where it has more than 100 trillion won of assets, the conglomerate has operations in Japan and has key units there such as Lotte Holdings Co., which holds stakes in key affiliates and coordinates group strategy. Shin Dong Joo, the older brother, was raised in Japan and doesn't speak Korean fluently.
Though Lotte's Japan roots are no secret -- it was founded there in 1948 -- the scandal helped triggered nationalistic sentiment among consumers, prompting Koreans to boycott Lotte's products last year, which marked the 70th anniversary of Korea's liberation from Japanese occupation.
And though the boycotts have died down, investors may weigh the baggage that comes with Hotel Lotte before investing in it.
"The risks associated with the power struggle and the Japan issues will keep being a drag on the stock," said Park Ju Gun, president of corporate watchdog CEOSCORE in Seoul.
Before it's here, it's on the Bloomberg Terminal.
LEARN MORE