G-7 Gathering Kicks Off With Competing Views on Boosting Growth
by
Ministers, central bank chiefs are meeting in northern Japan

Schaeuble says ministers will discuss 'the right recipes'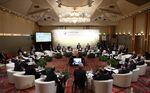 Finance chiefs from the Group of Seven advanced economies arriving for meetings in Japan on Thursday, sent mixed signals on how best to boost flagging global growth.
While the host nation looks to favor an agenda that includes more fiscal stimulus to spur demand, a tonic that's strongly supported by Canada, not everyone signaled a willingness to spend more.
Germany's finance minister Wolfgang Schaeuble, who has previously pushed back against calls for new spending, said the G-7 meeting in Sendai, northern Japan, will cover different options for different economies.
"I think German fiscal policy is rather successful," Schaeuble told reporters. "We'll have a focused discussion on the state of the economy and the right recipes, which are different for the various countries."
At the other end of the debate, Japanese Finance Minister Taro Aso warned of growing uncertainty in the global economy and said the G-7 needs to play a leading role in providing stability.  
His views reflect pressure that's building on Japan's government for more spending, even as government debt swells. With a record 96.7 trillion yen ($880 billion) budget already in place for this fiscal year, parliament on Tuesday approved 778 billion yen of relief funding to shore up southern regions struck by earthquakes in April. Expectations are rising that Prime Minister Shinzo Abe will announce a much bigger supplementary spending package over the coming months to support the nation at large.
China Risk
While Canada is also pushing for greater fiscal spending to revive the world's economy, it won't urge Japan and other G-7 nations to follow its own specific measures, Canadian Finance Minister Bill Morneau said in a Bloomberg TV interview in Tokyo.
"Our best way to be part of the discussion is by saying here's what we can do in our economy," Morneau said. "Our fiscal situation is not the same as Japan's, so for me to prescribe for Japan to do the same things we're doing would be going a bit far."
Moody's Investors Service on Thursday lowered their growth forecasts and said one of the biggest risks facing the global economy is a more pronounced slowdown in China than currently anticipated, given that it could have a "significant" impact through roiling financial markets and spurring investors to cut back on riskier assets. 
Elena Duggar, an associate managing director at Moody's, said in the statement that "the global recovery has weakened further and the outlook across countries remains uneven and largely weaker than over the past two decades."
The gathering in Sendai, in the northeastern part of Japan hit by the 2011 earthquake and tsunami, stretches from Thursday evening to Saturday. The formal agenda covers risks to the international economy, global financial architecture, sustainable and inclusive development and cross-border financial flows.
Before it's here, it's on the Bloomberg Terminal.
LEARN MORE