Fed Communication Shift 'Is a Recipe for the Dollar to Go Up Against Everything'
by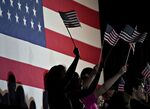 The market reaction to the minutes from the Federal Reserve's April meeting shows monetary policymakers engineered an ideal environment for the U.S. dollar to thrive, according to Société Générale SA global strategist Kit Juckes.
Wednesday's communique proved surprisingly hawkish, indicating that most officials believed a hike in June would be likely should economic activity continue to firm—and suggested that markets hadn't adequately priced in this possibility.
The odds of a rate hike in June implied by federal fund futures proceeded to spike in the aftermath of this release.
Stocks were solidly in the green prior to the minutes and whipsawed thereafter, closing marginally in positive territory. The 10-year U.S. Treasury yield extended its increase on the back of this commentary, rising more than 8 basis points.
This combination of higher yields and resilient equities is "a recipe for the dollar to go up against everything, including the yen," contends Juckes.

"The dollar index has reversed all of April's fall, back to late-March levels, which means it's moving marginally ahead of the rise in yields," he writes. "That in turn reflects positioning as long dollar positions have been scaled back dramatically in recent weeks (CFTC positioning is now short the U.S. dollar), which is reason enough to believe that this bounce can continue."
So long as risk appetite doesn't disappear, the strength of the dollar could turn into a huge headache for the Fed once again.
"The line between higher U.S. yields being modestly positive for the dollar, a healthy reaction as we prepare for more Fed policy normalisation, and being a trigger for yet another round of risk aversion, boosting the yen and hurting asset markets globally, is frighteningly small," cautioned Juckes.
Goldman Sachs Group Inc.'s chief currency strategist, Robin Brooks, agreed that the dollar dynamics reinforce that "the process of monetary policy normalization is difficult," suggesting that the Fed's flips from hawkish to dovish have been driven by fluctuations in the U.S. currency
"In other words, the Fed may quite simply be volatile and complicated as it embarks on normalizing monetary policy, which argues for de-emphasizing the message from individual meetings and focusing on the big picture," he concluded. "The big picture, as we see it, is that the dollar will be a lot stronger three years from now than it is currently."
Before it's here, it's on the Bloomberg Terminal.
LEARN MORE