Exploding Lake, Blood-Laden Drones Spur Rwanda Tech Boom
by and
Rwanda using technology to help achieve middle-income status

Economy has grown by an average 7.5% over past 15 years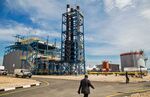 The tiny nation of Rwanda is pursuing a local technological revolution in a bid to transform its largely agrarian society into the equivalent of an African Singapore.
Since President Paul Kagame led his Rwandan Patriotic Front to power in 1994 after a genocide that claimed as many as 800,000 lives and cut economic output in half, the East African nation has pursued policies aimed at encouraging investment in and developing its ICT industry. The goal is for Rwanda to become a middle-income economy by 2020.
The latest innovation was unveiled this week when Rwanda officially opened a methane-fired power plant on Lake Kivu to generate clean energy. The government's commitment to technological innovation has helped double the industry's contribution to the 1.53 trillion-franc ($1.97 billion) economy, according to National Institute of Statistics of Rwanda data. It may also ensure the landlocked, tea- and coffee-growing nation sustains growth that's averaged 7.5 percent since 2000, according to International Monetary Fund data.

'Impossible Endeavor'
"A lot of scientific research and technological innovation was required, even more than was realized at the outset," Kagame said at the launch of the KivuWatt Methane Gas Power Plant on May 16. "Some even thought it was an impossible endeavor. But we are happy today that things have proved to be different."
Rwanda ranks 11th out of 51 countries in an index that measures the drivers of internet affordability, according to the Alliance for Affordable Internet. The country has rolled out a national high-speed fiber-optic backbone in all 30 districts, while 4G LTE extends to 14 districts with plans to cover 95 percent of the population by 2017, Information and Communications Technology Minister Jean Philbert Nsengimana said in a statement last month.
During last week's World Economic Forum on Africa, which Rwanda hosted, the government announced plans for an "innovation city" in Kigali that will seek to attract and house technology companies and institutions to promote digital transformation in the country. Carnegie Mellon University Rwanda, which graduated its first students in 2014, will be the anchor tenant and other participants include the African Institute for Mathematical Sciences and Swedish telecommunications group Ericsson AB.
Singapore Model
"They are pushing to be the most efficient and forward-looking, the most innovative'' country on the continent, Dominic Barton, the global managing director of consultancy McKinsey & Co., said in an interview. "They have to be a bit like Singapore, because they don't have the endowment that the other countries have.''
Unlike many African countries, Rwanda doesn't have significant deposits of oil or metals such as copper and gold like neighboring Uganda and the Democratic Republic of Congo do. Even so, foreign direct investment in Rwanda will probably rise 36 percent this year to $1.5 billion, the nation's development board said last month.
Long-Term Rule
While Rwanda remains an investor favorite, Kagame has drawn criticism from the U.S. and other western governments over his plan to extend his 16-year rule by another seven years in elections next year. Human-rights activists have also inveighed against what they say is government repression of opposition and civil society groups.
Kagame, 58, has previously cited Singapore as an example of a state that's flourished under the long-term rule of a single person. Lee Kuan Yew led that country for more than three decades.
The KivuWatt methane project is currently the only gas-water extraction project operating in the world, according to ContourGlobal LP, the closely held U.S. company that built the facility. It's expected to produce 100 megawatts within three years as it extracts gas found in the lake's deep waters to generate low-carbon emission power, reducing the risk of a catastrophic release of methane. The lake is situated near Mount Nyiragongo, an active volcano that could trigger an explosion of the gas.
Blood Drones
Rwanda is also lining up other world firsts. United Parcel Service Inc. is funding a project in which drones will carry transfusion blood to remote rural areas. The Atlanta, Georgia-based company is working with California-based robotics maker Zipline and Gavi, the vaccine alliance, to start deliveries later this year.
The project will use Zipline drones that can make up to 150 deliveries per day to more than 20 clinics in the west of the country, where the country's famous mountain gorillas roam the slopes of extinct volcanoes.
"If this application works then maybe we can get approvals for vaccines or lifesaving medicines," Laura Lane, UPS's head of public affairs, said in an interview in Kigali. The service will enable fast delivery times, so that the blood can be kept within the required temperature ranges. And it's no coincidence that the trial is happening in Rwanda, she said.
"One of the challenges that we find in terms of applications in a lot of other places is the regulatory environment,'' Lane said. "We have great cooperation with the Rwandan government and that's what's making it possible.''
Mobile Payments
Ericsson and Cisco Systems Inc. also last week announced a partnership with the Rwandan government to connect mobile-payment systems across all wireless networks in Kigali, helping consumers pay for goods with smartphones regardless of service provider. The government also unveiled a partnership with MasterCard Inc. that includes a range of initiatives aimed at moving Rwanda closer to a cashless economy, including digitization of school fees and national healthcare-claim payments.
"Technology is changing the way business is done in Rwanda," Nsengimana said in an interview. "The leadership and aggressiveness in adopting technology is what makes a big difference."

Before it's here, it's on the Bloomberg Terminal.
LEARN MORE