Ex-Barclays Trader Thought New York Ungrateful on Libor Efforts
by
Johnson e-mail says U.S. didn't appreciate his actions on rate

Contogoulas comments under cross-examination in London trial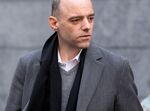 Ex-Barclays Plc trader Peter Johnson thought the New York swaps desk was ungrateful for his efforts to submit Libor rates that suited their derivative positions, according to a March 2006 e-mail to a co-worker now on trial for rigging the rate.
"If they could be bothered to call me to express appreciation I would be more inclined to help," Johnson wrote to his then-colleague Stylianos Contogoulas, who responded that he "completely" understood.
The exchange was used by the prosecution Thursday to illustrate that the men expected to give and receive inducements to manipulate Libor because they knew it was wrong. Contogoulas, who was being cross-examined, said he never thought Johnson's final submissions were out of line with the "proper procedure." Contogoulas testified Wednesday that offers of coffee and sushi to Johnson and his underling Jonathan Mathew were just "to show his appreciation" to the team, rather than a "bribe."
Contogoulas and Mathew are on trial with former colleagues Jay Merchant, 45, Alex Pabon, 37, and Ryan Reich, 34. They are accused of conspiring to fix the London interbank offered rate, or Libor, which is tied to trillions of dollars in securities and loans. Contogoulas is the second defendant to give evidence in the trial that started last month. The jury was told last week that Johnson has pleaded guilty.
"I never thought that the final number he submitted was in any way wrong or not in accordance with the proper procedure," Contogoulas said in reference to Johnson's submissions.
Before it's here, it's on the Bloomberg Terminal.
LEARN MORE